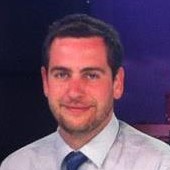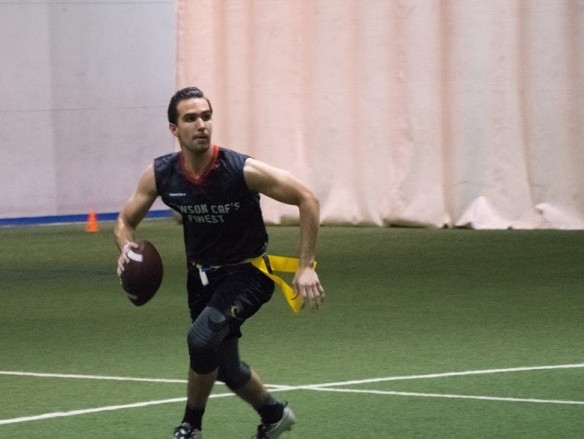 Dawson's Caf Finest just one of a ton of new and old teams hoping to survive the first elimination game.
Beer Goggles, the annoyance of certain opponents and two Eddie Murphy references
Saturday, Nov 18, 2017
Tier 1 | Tier 2
Peeze's Playbook week 11
By Paolo Della Rocca
With the podcasts and Francois Martin's article looking to the future, I decided to take a moment to reflect upon the past rounds. I took a moment and looked at performances by teams and players leading into to todays games. Without further ado take a look at the inaugural cup season in review. If you're looking for picks, unfortunately you won't find them here but rather in this past week's podcast.
FPF All-Stars
Somewhat as expected, FPF All-Stars went 10-0. They also did so with a +/- of 199 which means they won each game by a difference of 24.9 points.
Chris Miliard and Anthony Vendrame have truly fit in with the Montreal Finest core as the two have combined for 20 touchdowns. Miliard added 6 interceptions and Anthony "Time Cop" Vendrame had 3 interceptions.
I don't know whether being in "playoff form" is truly a thing or a construct we've developed as a way to help us understand a somewhat unpredictable sport. If it is however, a tight game against the Braves and two fast paced exciting games against DK and Fine Wine show that the All Stars offense is operating at a really high level heading into the bowl season.
Urgence Medic
Urgence Medic are a team of two tournaments so far. After running the table in the preliminary round UM went 1-4 in the qualification round. They did beat a team quarterbacked by a very good division 1 quarterback (Top Guns/Paul Lapierre).
The worry for Urgenc Medic is the inability to score more than 30 points against elite teams. This is a feat they only accomplished once in the qualification round. If they can't score more frequently, their offense won't stand a chance.
I've been a little underwhelmed by the play of Julien Bellavance. My former teammate and overall good dude has all the ability to be a dominant player who has filled a small role on this offense. He definitely is the kind of guy who has his biggest moments in big games. So, bowl season…here we come.
DK
DK's only loss came to FPF All-Stars. Despite being considered the most talented team in the tournament, the typical result played out for DK. Fine Wine and Top Guns also played two tough matchups that DK would end up winning.
Rochdi Benabdelkader's performance is marred by having missed a game but the silky smoothed afro'd Tasmanian spin creature had a great season. He threw only 1 interception all season long.
Their rematch against Fine Wine is one that DK probably didn't prefer. However, are there any easy games at this point of the tournament? It's rhetorical; you answered for no reason.
Fine Wine
Don't let the 2 L's fool you, Fine Wine scored twenty more points in this tournament than FPF All-Stars. Their two loses came to the aforementioned FPF All-stars and Fine Wine. However, if quarterback Dan "Tacos" Lazzara can truly believe that he belongs with the heavyweights in this division, his team has enough talent to contend in the bowliest of all bowls.
Zach Jauniaux has got to be feeling like he truly belongs. He was second in receptions on this team after Theo Ojeaha and he averaged a touchdown per game. He was one of four receivers to have averaged a touchdown per game for Fine Wine.
No one likes to end a season with a loss but in the end, they were a 6 win team and it truly doesn't matter when the losses came. Only fine Wine, FPF All-Stars, DK, and #NR achieved that feat in Tier 1
Top Guns
A lot has been made of their quirky playbook. However, there is a lot to be made of this roster as well. Donald Shepard's return to FPF has been triumphant as his 33 catches and 9 tochdowns led the team on both categories.
I was surprised to see Top Guns not win a single qualification game. I was yet more surprised that they scored only 25.6 points a game. It's not horrible but it isn't on par with elite Division 1 teams.
Rob Robinson intercepted 3 passes, Paul Lapierre intercepted 2 and no other defender had multiple interception. This is something to consider heading into the bowl.
Braves
When I first saw Braves play in the overnight tournament, I considered them to be a high end division 3 team. Man, was I wrong! I'm happy to say they continue to defy expectations.
After and unexpected loss to Urgence Medic, braves have looked good in the qualification round. Since then, the Braves have only ost one other game and that came to the hands of FPF All Stars.
It is hardest to stand out on a talented roster. Yet, Georges Gariepy continues to impress as he had 14 touchdowns in this tournament.
Dad Bods
Sean Avruum's dad bod of new has replaced a 6 pack of old but, his arm is still as golden as an angelic vocal chord. His 35 touchdown and 8 interception total was somewhat overshadowed however, these interceptions came in only 3 games.
Dad Bods are the best of the non-elite teams. This sounds like I'm saying that they look the best with the thickest of beer goggles however, I feel like they win games where they are favored and loose to games you would expect them to.
Rich Humes led the team in touchdowns while trailing only Anthony DaSilva in catches. This team is deep and any one of their weapons can be the turning point in any game.
Freshii Superfoods
While superfoods seem to change from year to year and from Dr.Phil episode to Oprah endorsed product, Freshii seems to be filled for consistency.
Gianni Settino seems to have had no let down despite his hiatus from FPF play.
Mathieu Lepage has been recently named the receiver of the year. He's someone who's been a trendy name over the past couple of seasons. However his hype is worth the price of admission. (I realize that made no sense. Shut up, he's really good. OK?)
KGP RA
When K-G-P-R-A switched to Phil Cutler as quarterback, I knew they would end up in exactly this position. The position of course is, exactly where they belong. They did a little too well in the first round (capped by a win over a talented #NR roster). As such their pool in the QR round was a little deep for comfort.
Their ability to score points makes them a legitimate contender. K-G-P-R-A have not scored less than 25 points since their first week when they got blown out by FPF All-Stars.
Gabe D'Amico Mazza is not the most talked about player but he is quick and versatile. He is as good a receiver as he is a shut-down rusher.
Dans & Tams
Future hall of famer Joey Taylor had an impressive cup. Yawn, nothing is less surprising.
Their 4-1 record in the Sarwar pool is impressive considering, that, records aside, this was a competitive grouping.
I didn't know how Terry Tam would fit this offense given how he is very different (stylistically and otherwise) from Taylor's 2.5 typical snapper Danny McFee. It turns out that a 35 catch cup season illustrates how well the two have continued to work together.
Friends in Low Places
FILP have had incredible roster inconsistency this season. This is something that usually leads to heartbreak and disappointment.
Friends in low Places were a semi-surprising upstart in the initial round. Their loss to Top Guns predicted that their success would be limited in a tough pool in the Qualification Round.
Jarred Buck is an up and comping quarterback in FPF but, as a receiver, the "Blond Bomber" has arrived. His 10 touchdowns will definitely pain a target on his back this round. Let's see how he'll deal with the increased attention and coverage.
Lightweight
Lightweight has been an utter disappointment. There really isn't a lot to reflect on in a season that was marred by undue high expectations and poor performances.
Lightweight won 1 single game in this tournament and they were favoured to win at least 3 more.
Jean Felix Daloze has been a revelation in this system. His 11 touchdowns in 5 games are absolutely noteworthy and he will be leaned on heavily in the upcoming bowl season.
Diablos
The greatest annoyance this season has been the opponents of the Diablos who allowed Francois Martin walk around with a chip around his shoulder a kin to if he married a playboy bunny. Hopefully the bunnies will turn to horrible hares in the bowl stage.
Samuel Drapeau's 22 catches, 450 yards and 7 touchdowns was truly impressive. Impressive still is that Alex Noel, Zach Zwirn, Gab Wiseman and Alexandre Levesque scored at least 5 touchdowns this season.
Diablos surprised in two great games against Lightweight and Commission. Given that those are the two other the other top dogs in the bracket, Diablos looked poise to hoist a cup in two short weeks.
Keyport Lock
They are tough, they are gritty, they do have the same sense of style of Professor Klump while the rest of FPF Is looking to model themselves after Eddy Murphy in Boomerang. For those to young to get the reference, get downloading. Boomerang was the truth!
The last blowout was when Keyport beat A-Squad. That part of the schedule and on saw games that hd no more than a 12 point differential and neither team scored more than 25.
In Jad Aridi's absence I expect for KL to lean heavily on Adam Rockman and Zach Goldstein who combined for 15 touchdowns in the cup season thus far.
A-Squad
A-Squad didn't win a game in the previous rounds. They are exceptionally athletic and talented. However, whether it was Corey Walwaski, Rick Cummins or Yacoub Telemaque throwing the ball, the offense simply couldn't make progress.
Kerdley Micourt also emerged as a fantastic rusher in the first two rounds as the flag football equivalent of a Swiss army knife, sliced, cut and corkscrewed into an 8 sack performance.
What's worrisome for A-Squad is that they haven't scored more than 3 touchdowns in the last three games and scored more than 25 points once this season.
Top Secret
Top Secret aren't just avid listeners to the podcast, they also took our advice. Moving toward Zacharie Quiviger has allowed Alexis Labonte and Nicholas Saro to play receiver. Obviously I am ego centric and arrogant enough to take credit for this.
Maxime Theroux and Nic Saro proved to be a dynamic duo on defence as the two combined for 6 interceptions.
Top Secret is 2-2 with Zacharie Quiviger at quarterback. However, their two losses came against higher division teams (Bearskins and #NR). This bodes well for the bowl stage.
Smokin Axolotls
The Smokin' Axolotls were in an unfortunate position as they were essentially a Tier 2 team who needed to register for Tier 1 as their QB Jason Rossie was capped too high for the lower grouping.
The performances by Will Power and Chris Brockwell were huge as the duo combined for 10 of the team's 18 touchdowns.
In the initial round SA were outscored by an average of 34.67 points per game. In the qualification round they were far more competitive and were outscored by only 9.8 points per game. They are trending in the right direction which is a good sign for a team that has had a tough tournament so far.
Tier 2
All Hooks
Simon Dagenais and I have postulated that All Hooks may be the best team in the second Tier of the tournament.
All Hooks only loss was to an understated X-Men team who proved to be the top team in this Tier. Perhaps the best news for all who are hookers is that they don't have a rematch against those middling mutants until a potential championship game.
Don't tell CO Lavigne that mobile quarterbacks can't win in FPF. Despite the fact that everyone knows that he will try to run down their throats he ran for 4 touchdowns and averaged 10.3 yards per carry.
Greendale Human Beings
Greendale Human Beings only lost 1 game with Danny Aylward at quarterback. That game was a week 9 one point loss to All Hooks. In that game "Big Dan" threw 6 touchdowns.
Phil De Kovcahich had 12 sacks and is improving every game as a receiver. Yet, amazingly, the stats don't even show his impact on the game. Special K has helped an already strong GHB become a truly elite team in T2.
Brandon Aylward has had most of us overlooking Alex Joltopuff. AJ caught 50 passes for 471 yards, and 10 touchdowns. That is a huge season.
Voodoo
In all the talk about receiving duos one can't forget the best duo in Tier 2. Receiver of the year Etienne Vaillancourt and Phillipe Kotrbaty have been virtually impossible to defend.
The injury to Frank Kaye was devastating. However, Pat St.Amand has answered the call to adventure overtime he's been called upon. This intelligent play caller has got the most out of his players.
Voodoo did lost 4 games in the Pool stage, however, I do think that armed with having played all the teams in this bowl bracket, Voodoo will be a team to contend with.
X-Men
Given their treatment by the media, I understand the chip on X-Men's shoulder. However, if I may dig my grave a little further, despite having lost no games in this tournament, I think X-Men are vulnerable and I predict an early exit.
Their win to Voodoo in week 9 came against 5 players. They will be facing a full roster in the bowl entry stage.
Kevin "Boost Boost" Boustany is amazing. He is fast and intelligent and makes a solid team a very good team with just his ability to play almost every position.
Lockdown
Despite going 0-4-1 in the qualification stage, Lockdown have improved each week and lost one of those games without quarterback Pat Riot.
Pat Riot has quietly "felt the noise" in this cup season as his 4:1 TD to interception ratio is his best since ….ever.
Alex David has had a huge impact on this team. In the past few seasons, Alex David has become more of a deep threat and has begun to add on RACs which is something he had trouble with in the past.
Warriors
The Warriors had some controversy this season as they had two players suspended and one suspended player was #1 receiver Stefano Solimene. However, with their full roster I expect them to be the favourite to win the Adriano Tassone Bowl.
AJ Gomes has scored 4 touchdowns for Warriors. This huge acquisition only played 4 games. Whether or not he plays will define whether or not they can dominate the way I think they can.
In dealing with the suspensions to Peter Giannis and Stefano Solimene, the Warriors only managed to go 2-2-1 in the qualification round. We all know however, this was not indicative of their abilities.
No Name
With each season guys like Sean Collins, Robert White and Jonathan Grizzley, this is hardly a no name roster any longer.
The Sean Collins QB experience did not turn out as well as he expected. This may not have been the best roster for his skill set. However, with Jonathan Grizzly's mobility, No Name's offence was a well-paced and gritty as ever. Grizz threw 8 touchdowns and only threw 3 interceptions.
Predictably, Denzel Eadie Lowe earned 6 sacks but less predictably, this rusher has been slowly turning into a devastating receiving threat as he recorded 5 touchdowns as well.
Mean Machine
Daniel Goloff threw for 26 touchdowns in his 7 games played. It isn't exactly wowing. However, the games where Mean Machine have been on, he has played well.
Between both early rounds, Mean Machine has gone 6-3. After putting up a sub par point differential of +18 this didn't improve for the qualification round where they only outscored opponents by 23 points.
Benji Ziegler is the meanest of machines and requires as much attention as the defence can bring. He had 11 touchdowns in this cup season and he are than doubled the next best of his teammates.
Hold My Beer
In his time as a quarterback in FPF, Brad Evans has been king of the regular season. He tends to have let up in the playoffs but, in the meantime, 32 touchdowns and 12 interceptions is a solid performance.
Hold my Beer were essentially a .500 team with a forfeit sprinkled into the mix. Otherwise, they beat the teams where they were more athletic and struggled in games against more talented or equally skilled.
Myles Keiller and Michael Khazaka were a force this season and their 17 combined touchdowns made up 51.5% of the team's scoring.
Los Banditos
Loic Savoiz-Seqguin had a very welcomed return to FPF where he recorded 4 interceptions. However, Vincent Benjamin had an even better season as he scored once on 6 interceptions this cup season.
Vincent Benjamin's input was not only limited to defence as he scored 8 touchdowns on the season as well.
Once they set up shot in a group of their peers they looked a lot better. Their 3-2 record and their stifling defence made them a sight to behold as the qualification round wore on.
Trigger Happy Bunnies
Trigger Happy Bunnies performed as expected in the preliminary round. They were the second best team in their group (Greendale Human Beings finished first). However, they went 1-4 in the Della Rocca pool.
I like the size offered by Alex Guertin and JD Joly. The pair combined for a shade under 500 yards (494).
Phil Samure proved to be one of the most versatile players on the team. He recorded 4 sacks, 2 interceptions and averaged 24 yards per catch on his 6 catches.
Prime Time
My affinity for Primetime has been fairly obvious since the started. Despite, being somewhat outclassed in the preliminary round, Prime Time dominated and went 4-1 in the qualification round earning them top spot in the Dagenais Pool.
Their most impressive win in this stage was a 21-14 win over a solid Los Banditos team and they ended the previous stage with a 50-20 win against Sons of Mitches.
Josh Levine has led the way for the receiving group. His 10 touchdowns were most on the team followed my Meissa N'Garane who scored 7.
Sunday Touch Boys
Jason Hervieux is a star to be in FPF. Six of his 21 catches went for touchdowns. But I thought the towering Par Provencher would be more involved on offense. Provencher only caught 8 passes and 2 touchdowns this season.
Sunday Touch Boys are new to FPF and predictably struggled early going 1-2 in the group stage. They learned the game and improved each week as they ended the qualification round 3-2.
They lost by six points to Los Banditos. In this game they limited the opposition to 12 points but, disappointingly, only scored 12 of their own.
Dawson's Cafs Finest
The season turned when they added George Spano at quarterback. He has helped this team evolve on both sides of the ball despite not having the best season at quarterback.
Michael Rodriguez is a player who's involvement on offence is limited considering his immense height. However, he scored 4 touchdowns in the last two weeks.
They went 4-1 despite only scoring 91 points in the qualification round. They had the ability to keep games close and this has paid off. It may not be entirely sustainable but they have looked good recently.
Sons of Mitches
Vince Romano hasn't looked as good as his debut at quarteback. He has looked more dynamic than Patrick Manning. Jordan Farray has been the star on this team as he has scored 11 touchdowns. Meanwhile, Matthew Augustine has scored 7 and no other player on the roster has scored more than 2.
The team's claim to fame is their defence and Jarred Stewart has led that unit with 4 interceptions.
Armando Trotta: 2 career catches (slow clap)
North Shore Finners
I was excited by this team from the moment I saw them. Tristan Grennon has had a tough time adapting to the spacing in FPF. His 16 touchdowns and 7 interceptions has been no more than adequate this season.
Gabriel Gaudreault has been efficient as his 11 catches has yielded 4 touchdowns. However, it was somewhat disconcerting that no receiver caught more than 15 catches on the season (Vincent Martin-Raymond).
Not Shore Finners went 1-4 in the qualification round. This was surprising for a team that I thought was one of the more talented unknown entities in the league.
Farmers
The trio of Simon Viens, Corey Greenaway and Jonathan Legault are the most dynamic two way players in the tourney.
Maxime Potvin often gets forgotten in the bunch. However, his 7 touchdowns tied Jonathan Legault for the team lead.
Their 4-1 effort in the qualification round is a solid indicator for a budding FPF franchise that has looked better and better every year. Their only loss in that stage came to Dawson's Caf Finest who led the Jonathan Louis pool.
Ducks
The Ducks may have been overlooked with the success Dawson's Caf Finest and the Farmers. Yoni Loeub and David Rothestein are legitimate shut down corners. The two combined for 9 interceptions.
Zachary Frankiel may be one of the better quarterbacks of this lowest ranked grouping. However, his 14 sacks were part of the reason they were constantly fighting an uphill battle.
The Ducks allowed 102 points in the first three games and only allowed 76 in the next 5. This is the sign of a unit who's communication has improved throughout the tournament.
Blacksox
By Simon Dagenais
Don't let their current record fool you; Blacksox is a much deeper team than the 0-9 record could potentially indicate. With a lot of speed at every position but one, they've got all the key pieces to make a deep push this season and play for their respective Bowl next weekend.
Mario Falato is turning into a real defensive stud with 3 interceptions in his last 3 games. If he can keep the momemtum going, he might be able to shift Saturday's game into his team's favor with an early turnover once again.
In a low scoring affair, Blacksox' grittiness could be the biggest upside as they can stretch the field and score rather quickly. Maintaining their opponents below 20 points should be sufficient enough to get them into the Bowl game.
Bruins
Rusher Antoine Huynh had a very good season as his 7 sacks helped this improving defensive unit improve all season long. That defense recorded 18 PDs. If a few more of them were interceptions this could have been a better cup run.
The Bruins beat their rival Blacksox for their only win during this cup season. However, they played a tough game against Sunday Touch Boys and they started out strong against the Farmers in week 8.
The quarterback carousel has continued this season. However, Thomas Forget has looked to be the best of the bunch. His 16 touchdown passes and 8 interceptions is far from stellar but the offence just seems to move well with the ball in his hands
Saturday's Super Spinsters
The first week of the qualification round is done and the games have already gotten more interesting. If the stats from your game are erroneous please feel free to contact me @PeezeFPF on Twitter, by emailing me at paolo@flagplusfootball.com or by messaging me @ Peeze Della Reeze on Facebook. Also, feel free to reach out to let me know what you think of my article, the podcast or any other specific part of our media team output
For further analysis, tune in to the official FPF podcast "Calling the Audible," where Simon Dagenais and I discuss black and white challenges, suede shoes and why Lebron James should have been a point guard his entire career.
Tune in to www.youtube.com/flagplus on Thursday nights at 7:30 p.m. or download the podcast on iTunes or Podomatic!