GAMEPLAY INFO / RENSEIGNEMENTS SUR LES PARTIES
Timing: two 22-minute halves + 5 untimed plays and are played within a one-hour timeslot.

Format: Non-contact 6 vs 6.

Downs: Four downs for ten-yards.

Field Dimensions: 50 yards long by 30 yards wide + 8 yard end zones *slight variation depending on facility

Surface: Artificial Turf, varies on location (FieldTurf, Nexxfield)

Venues: Fixed-Structure Indoor Facilities, Inflatable (Domed) Indoor Facilities, Outdoor Turfs

Staff: Two federated officials (three or four for playoff games) + 1 scorekeeper
Durée: Deux demies de 22 minutes suivi de 5 jeux supplémentaires qui complètent la plage horaire de une heure par partie. Format : 6 contre 6 sans contact

Essais : 4 essaies pour franchir 10 verges.

Dimension du terrain : 50 verges de long par 30 verges de large (plus zone des buts de 8 verges de long). *Peut varier légèrement selon les terrains

Surface : Gazon synthétique artificiel selon les terrains (FieldTurf, NexxField)

Sites : Structure intérieure fixe ou gonflable (dôme); terrain synthétique éxtérieur

Personnel : Deux arbitres fédérés (parfois 3 ou 4 lors des séries éliminatoires) + 1 marqueur.
SCHEDULING INFO / RENSEIGNEMENTS SUR LE CALENDRIER
FlagPlus Football uses a schedule building algorithm/platform to create both its Winter and Spring season schedules. The SKEDBUILDER platform allows teams to rate all location-day-time slots available in a given season by allocating points to each available option. (example: Sunday / Soccerplexe Catalogna / 21:00) Teams may also "blackout" up to a number of slots and specific dates – virtually ensuring that they won't be scheduled there. Due to the fact that we allow individuals to play on multiple teams (in different divisions) in the same season, the platform is equipped to handle avoiding conflicts between any combination of teams with common players, and thereafter also aims to closely match the schedules of those same teams to convene the players (example: back to back games, games on the same night of the week).
Once teams submit their final rosters and their preference form prior to the start of a season, the platform's objective is to maximize some function of the ratings that makes every team as satisfied as possible, by taking all of the following into account:
preferred day preferences
preferred time preferences
preferred location preferences
set blackout dates (limited to two)
possible overlapping games for teams with common players
Unlike many other sports leagues, FPF does not tie specific divisions to any specific day of the week (example: Thursday night Division 2 League) because we've seen that teams often sacrifice playing in the right caliber in order to play on a specific day of the week, even if the skill level is not the best fit. We do everything in our power to maintain the integrity of each division's caliber. Instead, we give teams the opportunity to communicate which days work best for them, and by through our automated scheduling program, we are consistently able to build as ideal a schedule as possible. Because our divisions are quite large compared to other sports leagues (as many as 32 teams), there are enough teams for us to group together those with similar preferences and schedule them against each other to satisfy their requests.
FlagPlus Football utilise un algorithme figurant dans un logiciel pour créer l'horaire des saisons d'hiver et de printemps. Le logiciel SKEDBUILDER permet aux équipes d'allouer des points à des plages horaires afin de les classer par ordre de préférences. (Exemple : Dimanche / Soccerplexe Catalogna / 21h). Les équipes peuvent, également, rayer complètement («blackout») un certain nombre de dates dans leurs horaires, qui leur permettra de ne pas jouer le jour de ces dates spécifiques. Étant donné que plusieurs joueurs font parties de plusieurs équipes différentes dans une même saison, le logiciel nous permet donc d'éviter des conflits d'horaire afin de permettre à chacun d'être présent à toutes ses parties et de prioriser la possibilité qu'un joueur puisse jouer deux parties le même soir, parfois même une après l'autre.
Une fois que les alignements finaux sont soumis et que le document de préférence est reçu, le logiciel maximise en fonction de cotes allouées pour satisfaire le plus possible les équipes en question en pérennant en compte les facteurs suivants :
Jours de préférences
Heures de préférences
Endroits de préférences
Les jours rayés complètement (blackout dates) limités à deux
Éviter que deux parties ont lieu en même temps avec des joueurs en commun.
Contrairement à plusieurs autres ligues sportives, FPF ne dédie pas des divisions à des jours spécifiques du calendrier (Exemple : toutes les parties de Division 2 ont lieu le jeudi soir) parce qu'au fil des années nous avons pu apercevoir des tendances vers lesquelles certaines équipes joueraient dans un calibre différent simplement pour satisfaire une journée de la semaine plutôt que le niveau de jeu désiré. Nous faisons tout en notre pouvoir afin d'assurer l'intégrité du calibre de chaque division. À la place, nous fournissons aux équipes la chance de nous communiquer quelle journée leur est préférable et le logiciel construit l'horaire optimal. Grâce à nos divisions suffisamment grandes comparativement à d'autres ligues sportives (jusqu'à 32 équipes par division), nous avons assez d'équipes regroupées ensemble avec les mêmes préférences afin de satisfaire les requêtes de chacune d'entre elles.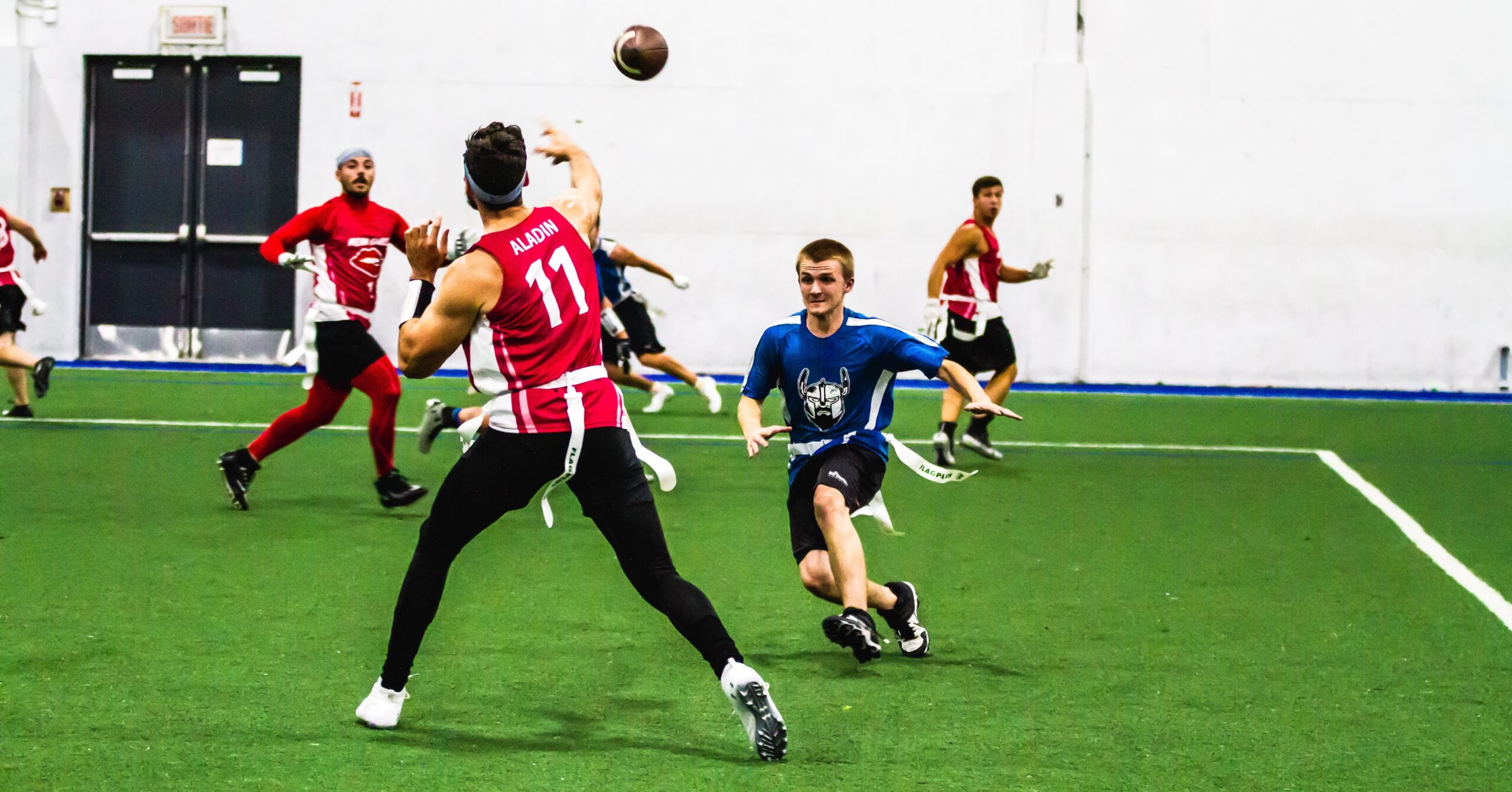 UNIFORM PROTOCOL / RENSEIGNEMENTS SUR L'UNIFORME
FlagPlus Football asks all of its teams to respect the league uniform standards. Although we grant teams the freedom and flexibility to purchase their uniforms anywhere they wish and spend as much or as little as they prefer, we expect everyone to abide by certain rules that allow us maintain a minimum standard.
All players on the same team must wear matching-colored jerseys.
All players are required to have a large, clear number on the back of their jersey; numbers on the front or shoulder of the jersey are optional. Written-on or taped-on numbers are not permitted.
Two players on the same team are not permitted to wear the same jersey number.
Here is some friendly advice for new teams joining our league:
Avoid cotton t-shirts! The nature of the sport requires players to continuously grab and pull a waist-level flagbelt, and jerseys are often accidentally (or not) grasped. Cotton tees tend to tear easily and lead to extra headaches and costs for team captains. We always suggest you go with a polyester or coolmax wicking fabric that are much more tear resistant and will last several seasons.
When two opposing teams have the same colored jerseys, the road team is required to wear FPF pinnies. Most teams utilize black, white or navy jerseys; we encourage teams to avoid those colors whenever possible.
Do not wear shorts with pockets- as they are not permitted and will result in a penalty. Zippered and taped-shut shorts are also not permitted.
Sportira is FPF's longtime uniform provider. We always encourage teams to support our sponsor, and consult them before any uniform purchase, regardless of budget. We're confident you'll be satisfied with their different options at different price-points.
For more information regarding uniform requirements, please refer to our Rule Book.
FlagPlus Football exige que chaque équipe s'engage à respecter normes en matière des uniformes d'équipe. Quoique nous permettons aux équipes la liberté et la flexibilité d'obtenir leur uniforme de leur fournisseur désiré et de dépenser la somme qu'ils leur semblent bon, nous nous attendons à ce que chaque joueur portent très attention à certains règlements afin de maintenir un certain standard:
Tous les joueurs d'une même équipe se doit de porter des chandails de couleur identique.
Tous les joueurs doivent avoir un large numéro clairement indiqué à l'arrière de leur chandail; les numéros à l'avant ou sur les épaulettes d'un chandail ne sont pas obligatoires, mais sont les bienvenues. Des numéros écrit à la main ou avec du ruban ne sont pas permis.
Deux joueurs d'une même équipe ne peuvent porter le même numéro.
Notez que tous contrevenants risquent de ne pas avoir leurs statistiques publiés sur notre site web, voire même être interdit de jouer.
Voici quelques conseils pour les nouvelles équipes se joignant à notre ligue :
Évitez les chandails en coton! Le sport demande aux joueurs de tirer sur une ceinture portée à la taille et les chandails tendent à être tirés en conséquence – et ceux en coton, de se déchirer. Nous vous conseillons fortement des chandails en polyester ou composé d' un tissue de «coolmax wicking» qui s'avère à être beaucoup plus résistant face aux aux tiraillements et aux déchirures comparé à d'autres tissus.
Lorsque deux équipes s'affrontent et possèdent les mêmes couleurs de chandails, l'équipe visiteur se doit de porter les dossards fournis par FPF. Étant donné que la majorité des équipes portent des chandails noirs, blanc ou de bleu marine, nous conseillons aux équipes d'éviter de porter ces couleurs le plus possible.
Ne portez pas de shorts avec des poches; ils ne sont pas permis lors de nos parties et la violation de ce règlement entraînera des pénalités. Les shorts avec zipper ou celés avec du ruban adhésif ne sont également pas permises.
Sportira est un partenaire d'affaires de longue date et nous encourageons fortement chaque équipe de les appuyer et de consulter leur site internet afin d'acheter vos uniformes. Nous sommes confiants qu'ils seront en mesure de satisfaire vos demandes grâce à leurs différentes options, leur qualité durable et leur prix abordable.

Pour tout autre renseignement, veuillez consultez notre livre des règlements.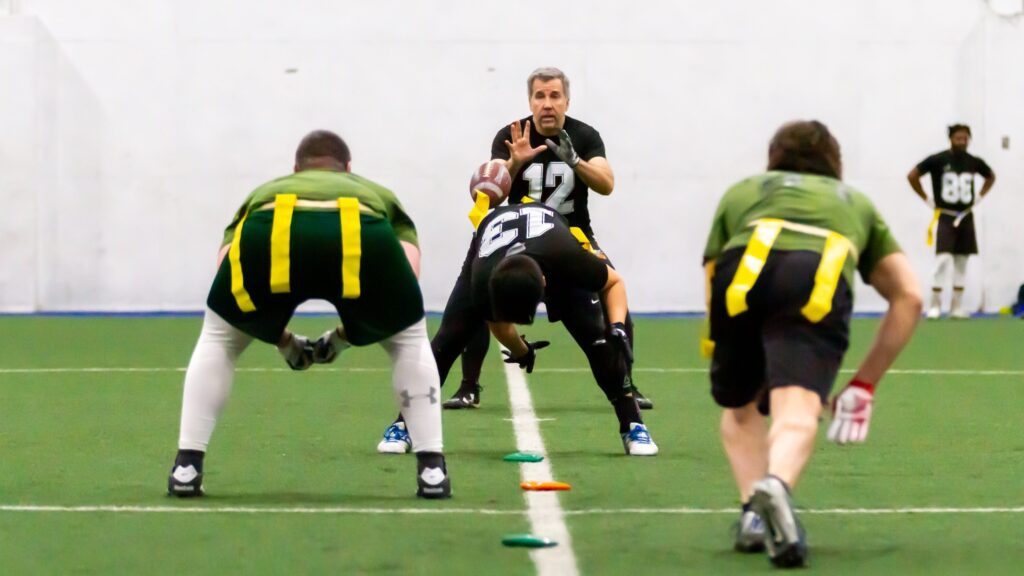 PLAYER RATING INFO / RENSEIGNEMENTS SUR LES COTES DES JOUEURS
FPF utilises an intricate player rating system. The objective of this system is to allocate an individual rating to each FPF player who has played a minimum of one full season, on a scale of 50 to 100, on both offense and defence. The league then sets maximum cap totals for each division offered in a given season. The lowest division will have the least amount of permissible cap space, and each division above will allow progressively more.

Teammates' individual ratings are added up to determine a team rating, independent for both offence and defence. Teams must fit below the permitted maximum cap on both offense and defence, for their specific division, otherwise they are in violation of our roster rules.

A player's ratings are derived from his accumulated statistics over the course of one or multiple seasons, when applicable. An intricate algorithmic program was designed to determine the correlation between a player's productivity in each statistical category and his resulting individual and team success, relative to the average. The player's division also affects the overall rating; the program assumes that equal production in a higher caliber is harder to achieve.

A weighted average formula is used; it takes a maximum of six seasons worth of statistical data into account, with more weight being placed on the most recent season, and progressively less weight on each season thereafter.

The team ratings calculation only factors in the top six offensive ratings for the offensive cap, and the top six defensive ratings for the defensive cap to calculate a team's rating. The rationale behind using only six players and not more is, some teams have very large rosters and some teams have very small rosters- if every player's rating was included in the calculation, smaller rosters would gain an unfair advantage. We feel that our current method is the fairest way to rate teams.

Please note that if a player does not play offence or defence, but has a rating that ends up in the top six of that same category, he will still count against the cap.

Some players have a second, QB-specific, offensive rating if they intend to play both Quarterback and Receiver. This is to decipher between most player's disassociated skill level at both offensive positions.

For more detailed information regarding the ratings system, please refer to our Roster Rules & Regulations document.
FPF utilise un système de cote propre à chaque joueur. Le but du système est de donner une cote offensive et défensive, figurant entre 50 et 100, à chaque joueur ayant participé à au moins une saison complète à FPF. Chaque saison, la ligue instaure des cotes maximales selon les divisions; les divisions inférieures ont des cotes maximales plus basses et chaque divisions supérieure auront, à leur tour, des côtes maximales progressivement plus élevées.

Teammates' individual ratings are added up to determine a team rating, independent for both offence and defence. Teams must fit below the permitted maximum cap on both offense and defence, for their specific division, otherwise they are in violation of our roster rules.

Afin de déterminer la cote maximale d'une équipe, la cote individuelle des joueurs composant l'équipe sera sommé afin d'obtenir la cote globale de l'équipe autant au plan offensif que défensif. Cette cote globale déterminera si l'équipe est éligible à jouer dans une division donnée sans être en violation des règlements d'alignement.

Un algorithme nous permet de déterminer les cotes de chaque joueur selon ses statistiques aux cours des dernières saisons lorsqu'applicable. La cote prend en compte la productivité d'un joueur lors d'une saison comparativement à la moyenne de la division dans laquelle il évoluait. La division dans laquelle le joueur joue affecte également la cote: plus la division est élevée, plus le dénominateur aura une influence. Le même niveau de production est plus difficile à atteindre dans des divisions supérieures.

La formule prend en compte les six dernières saisons d'un joueur en mettant davantage de valeur aux saisons les plus récentes et progressivement moins de valeur aux saisons suivantes

La cote maximale d'une équipe ne prend en compte que les six meilleures cotes offensives et défensives d'une équipe afin d'être calculée. L'idée derrière n'utiliser que six joueurs est d'éviter de donner un avantage injuste aux équipes comportant des alignements avec moins de joueurs. Nous croyons que notre système actuel est la meilleure façon d'évaluer des équipes.

Veuillez prendre note que même si un joueur ne joue pas à l'offense ou la défense, mais que sa cote figure parmi les six meilleures cotes de cette même catégorie, sa cote comptera tout de même dans le calcul de la cote globale de l'équipe.

Certains joueurs sont décernés d'une deuxième cote offensive, celle de quart-arrière, lorsqu'ils désirent jouer comme quart-arrière et comme receveur. Cela permet de déchiffrer le talent de certains joueurs selon leur deux positions offensives offertes.

Pour tout autres renseignement, veuillez consulter le document sur les règles d'alignement.
CODE OF CONDUCT / CODE DE CONDUITE
We aim to create an ultra-competitive environment but we expect all participants to understand that there is a line not to be crossed with regard to verbal and/or physical assault—players who cross that line are not the type of players we want participating in our league.
FlagPlus Football takes great pride in the extremely rare number of physical altercations that take place on the field each year during our 2,000-plus games. We feel that four factors play the largest role in this accomplishment:
1) The officials
2) The Disciplinary Committee
3) The players
4) The culture of FPF
Please be advised that:
Fighting is absolutely not tolerated.
Throwing a PUNCH or any clear and flagrant ATTEMPT TO INJURE will result in a lengthy suspension (minimum) to as much as a permanent ban from the league. Any isolated situation can lead to an immediate expulsion from our league if the Discipline Committee judges it to be severe enough.
We expect players to respect and act accordingly with the referees and scorekeepers at all times.
Taunting and general unsportsmanlike conduct towards an opponent is seen as distasteful and is unwanted; it often leads to heightened tension between teams, and will be penalized.
REPEAT OFFENDERS
Repeat offenders will receive escalating sanctions proportionate with their actions and previous suspensions, with the possibility of indefinite suspension for severe cases.
Remember: You as a player make the decision to carry yourself a certain way on the field, should the line between acceptable and unacceptable be crossed at any point, you must accept the responsibility and consequences from such actions. We will continue to do our best to create a safe and competitive environment for all our participants; if we deem a player unable to abide by our Code of Conduct, and his or her continued participation puts the safety of others at risk, said player will no longer be welcome to participate.

All leagues and sports are different; please be sure to have read and understood FlagPlus Football's Code of Conduct before participating in any league game.
Notre but premier est de créer un environnement ultra compétitif, mais il est important de comprendre qu'il y a une ligne à ne pas franchir en matière des abus verbaux et physiques. Le type de joueur qui ne saura se comporter adéquatement à l'égard de ses comportements est le type que nous ne désirons pas avoir au sein de notre ligue.
FlagPlus Football est extrêmement fier du faible nombre d'altercations physique qui ont lieu sur nos terrains lors de nos 2 000+ parties annuellement. Nous sommes d'avis que ces quatre facteurs suivants jouent une rôle prédominant à l'égard de cet accomplissement :
1) Les arbitres
2) Le comité de discipline
3) Les joueurs
4) La culture qu'est FPF
Soyez avisé que:
Nous avons une politique de tolérance ZÉRO à l'égard des bagarres / se battre.
Un coup de poing ou tout autre tentative de blessure entraînera une longue suspension ou même une interdiction permanente de jouer dans la ligue. Une situation isolée peut mener à l'expulsion de la ligue si le comité disciplinaire juge nécessaire.
On s'attend à ce que nos joueurs respectent les arbitres et les marqueurs en tout temps.
Provoquer un joueur ou toute conduite antisportive envers un joueur adverse est vu comme de mauvais goût et va à l'encontre de nos principes; cela tend à mener à des tensions entre les équipes et cela sera pénalisé.
Récidivistes
Les récidivistes obtiendront des sanctions progressives proportionnelles à leurs actions et leurs suspensions antérieures, et peuvent faire face à des suspensions indéfinies dans certains cas majeurs.
Rappel: En tant que joueur, vous êtes responsables de votre comportement sur le terrain. Si vos actions, soit verbales ou physiques, violent notre Code de conduite, nous serons obligés de vous punir adéquatement en conséquence. Nous continuerons de faire notre possible afin de créer un environnement agréable, hors de danger et compétitif pour nos joueurs. Si nous jugeons qu'un joueur dépasse les limites, il ne sera plus le bienvenu parmi nous. Chaque ligue et chaque sport est différent; nous vous prions de lire et comprendre le Code de conduite de FlagPlus Football avant de participer à n'importe quelle de nos parties.

All leagues and sports are different; please be sure to have read and understood FlagPlus Football's Code of Conduct before participating in any league game.