WINTER 2022-23 DEVELOPMENT PROGRAM
TWO ACTIVITIES PER WEEK: ONE DEVELOPMENT PRACTICE + ONE GAME
END OF NOVEMBER 2022 TO MID-MARCH 2023
Winter 2022-23: Two programs offered!
Our youth program is back for Winter 2022-23 under a new name: 'La federation de flag-football du Quebec', a non-profit organization whose mission is to grow the sport of flag football within the province of Quebec at all levels; and to place a renewed emphasis on skills development for young players.
Two programs will be offered by our organization this winter:
The first is a development program for boys and girls between 7 and 12 years of age. The program features two activities per week: first, a development practice, available on weeknights, at your preference between three offered geographical locations; second, a game, on Saturday afternoons at one central location. This program only accepts individual registrations; pre-assembled teams cannot register.
The second is a standard league for pre-assembled civil and school teams. The teams play a 10-game regular season plus playoffs, with games on both Saturdays and Sundays at a mix of three locations. Pee-Wee, Bantam and Midget age categories are available. Team practices are optional in this program; coaches can select how many practices they would like to include during the season upon registering the team.
We look forward to welcoming you this Winter!

WINTER 2022/23 DEVELOPMENT PROGRAM
BOYS & GIRLS 7-12 YEARS OLD - INDIVIDUALS AND SMALL GROUPS
DEVELOPMENT PROGRAM PRICING
Winter 2022-23 Development Program
Individual Registration
includes uniform + flag set

Access to a player combine event
PRE-ASSEMBLED CIVIL & SCHOOLS TEAMS' LEAGUE
FOR TEAMS WHO JOIN WITH AN EXISTING COACH AND A SET ROSTER.
CIVIL & SCHOOL TEAMS
Team Registration
PRACTICES NOT INCLUDED **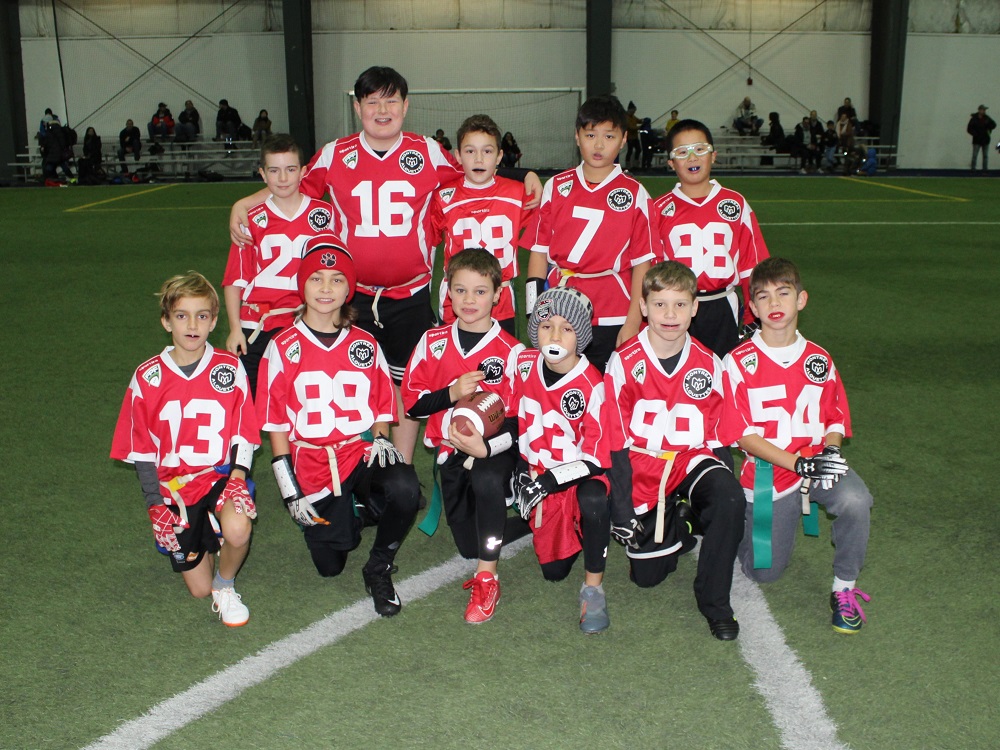 The development program for individual signups is quite different than it was in Winter 2021-22. The program in 2022-23 will focus more on developing the skills and enjoyment of each player. Kids will have a weekly practice in addition to their game; bringing the total number of activities in the session to 24 from 11-14 last year.
For teams in the pre-assembled league, the 2022-23 season will be similar to last year.
The weekly session will be 60 minutes long. For the first portion of the practice, the players will be divided into small groups at separate stations supervised by our coaches. These educators will lead dynamic workshops that will allow players to develop knowledge of the game and individual skills. Each drill has been designed by our team of experienced flag football coaches.
The final portion of the session will be devoted to games and mini-scrimmages (2v2, 3v3, etc.) in order to allow the participants to experience game situations, succeed in predefined games and of course, have fun with their teammates!
The teams will be formed by our coaches, one week before the scheduled date of the tournament. The teams will be balanced to allow for balanced and close contests! Teams are formed based on observations made by our educators during "skill development" sessions.
The teams are not fixed and could be changed during the next mini-tournament. There is therefore no selection camp (try-outs) at the start of the season.
Unfortunately, kids born before 2010 are not offered an age category in the development program. We encourage you to reach out to us and we'll do our best to group your child with other individuals without a team in the same age group and build a team in the pre-assembled division. Based on past experience, teams we assemble have a difficult time against more experienced, pre-assembled teams; but ideally we don't turn anyone away and have enough individuals or small groups of kids in the same age group to be able to build a team and give them all a chance to participate.
First, we appreciate your interest and definitely want to involve everyone who cares about player development.
To become a volunteer coach, no specific experience in flag football is necessary. We take care of your training so that you are equipped and comfortable in your role as a volunteer. Meetings are planned before the start of the activities to explain the objectives of the program, the curriculum of the activities as well as the responsibilities and expectations towards the educators.
Rest assured, at each of the activities, we will also have one of our experienced coaches on hand to answer your questions and assist you in managing your development workshop or the game.
If you would like to get involved in a role other than as coach, we would be happy to count you among our team of volunteers during the mini-tournament days!
We invite you to write to us at the email address: fpfjunior@flagplusfootball.com to express your interest in being a coach or volunteer role during the upcoming season!
Based on past experience, not all pre-assembled teams wish to practice and instead preferred to keep the registration costs lower by not having us include pre-booked fields in their fee structure.
Typically the school teams have access to their gymnasium/sports complex to hold practice, and the tackle teams often have access to local gym/field rentals through their association.
As a result, we allow pre-assembled teams`coaches the oportunity to reserve practice times on our vacant fields on a voluntary basis. We chage the teams 50% of our direct cost to rent half the field for an hour.
Do you have any questions? Don't hesitate to write to us.