If you're looking to join an existing team this coming season, we encourage you to register as an individual, below. Please fill out the following form to add your name to the list of players invited to participate in the upcoming 'FPF Combine' prior to the next season.
Note that there will not be a COMBINE event for the Spring 2021 Individual signups. We will place players based on an a discussion with them to get an idea of their background/experience. The COMBINE will return next season.
.
.
Si vous cherchez à rejoindre une équipe existante cette saison à venir, nous vous encourageons à vous inscrire en tant qu'individu(e) ci-dessous. Veuillez remplir le formulaire suivant pour ajouter votre nom à la liste des joueurs invités à participer au prochain «FPF Combine» avant la saison prochaine.
Notez qu'il n'y aura pas d'événement COMBINE pour les inscriptions individuelles au printemps 2021. Nous placerons les joueurs sur la base d'une discussion avec eux pour avoir une idée de leur parcours / expérience. Le COMBINE reviendra la saison prochaine.
Calling all the
looking to play FPF, but don't have a team!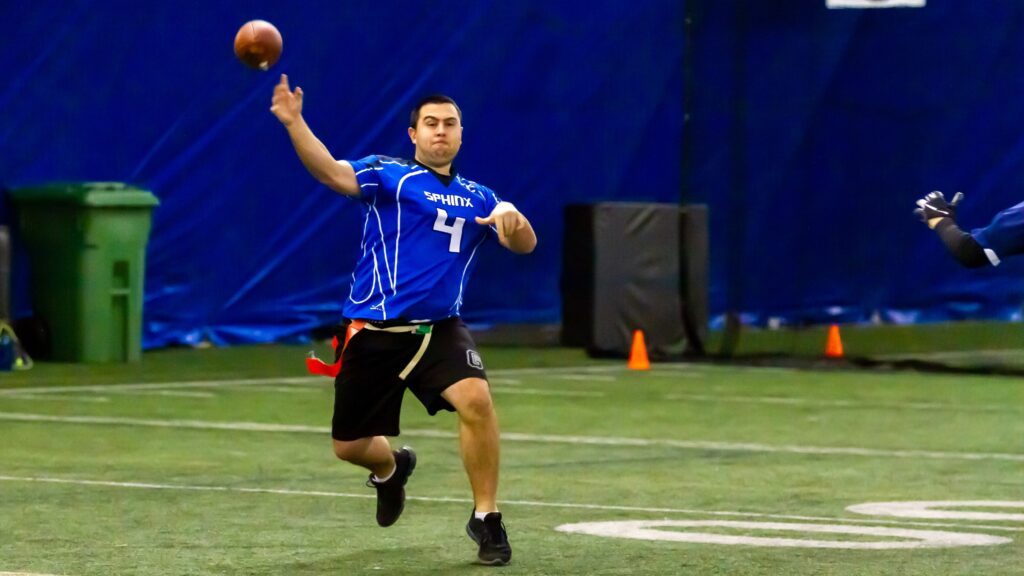 Attention aux
qui cherchent à jouer à FPF, mais qui n'ont pas d'équipe!
Once your form is submitted, your spot at our combine event will be reserved!
All those registered will have the opportunity to run drills and participate in a fun scrimmage while being evaluated.
FPF administrators will be on hand to assess each attendee and assign an appropriate grade. That grade will then determine an ideal range of divisions each player can ideally play in. The division range will be pre-discussed and agreed upon by both the player and FPF.
The intention is to place each player in a caliber where they can enjoy themselves and compete with other players of a similar skill-set.
No need to stress; this isn't a Pee-Wee hockey tryout, nobody gets cut! 
If you are unable to attend the combine but want to participate in the upcoming season, an FPF administrator can schedule a phone call with you to better assess your skill-set and requests.
.
Une fois votre formulaire est soumise, votre place à notre événement d'essayage sera réservée!
Tous les inscrits auront la possibilité d'exécuter des exercices et de participer à une mêlée amusante tout en étant évalués.
Les administrateurs FPF seront sur place pour évaluer chaque participant et attribuer une note appropriée. Cette note déterminera alors un calibre idéale de divisions dans lesquelles chaque joueur peut idéalement jouer. Le calibre de divisions sera pré-discutée et convenue par le joueur et la FPF.
L'intention est de placer chaque joueur dans un calibre où il/elle peut s'amuser et rivaliser avec d'autres joueurs d'un ensemble de compétences similaire.
Pas besoin de stresser; ce n'est pas un essai de hockey Pee-Wee, personne ne se fait couper!
Si vous ne pouvez pas assister à l'evenement – mais que vous souhaitez participer à la saison à venir, un administrateur FPF peut planifier un appel téléphonique avec vous pour mieux évaluer vos compétences et vos demandes.
Combine participants who would like to move forward and register will have until a specified date to pay their full fees to the league. Once a player has paid in full (by the deadline date) FPF will guarantee him/her a spot on a roster prior to the start of the season.
Once placed on a team, players are asked to note that no refunds are offered, and that all payments are final. Due to the nature of matching strangers together on a team, there is a possibility that some added players may not mesh perfectly with the rest of the team. If both the captain and player agree to a release, the option to switch teams will be made available. Note that only a pro-rated amount of the registration fees will be made available to carry over to second team. This has never occurred to date, but should be pointed out.
.
Les participants qui souhaitent procéder et s'inscrire auront jusqu'à une date précise pour payer leur frais à la ligue. Une fois qu'un joueur a payé (avant la date limite), FPF lui/la garantira une place sur une équipe avant le début de la saison.
Une fois placés dans une équipe, les joueurs sont priés de noter qu'aucun remboursement n'est offert et que tous les paiements sont définitifs. En raison de la nature de faire correspondre des inconnus au sein d'une équipe, il est possible que certains joueurs ajoutés ne s'intègrent pas parfaitement avec le reste de l'équipe. Si le capitaine et le joueur acceptent une libération, l'option de changer d'équipe sera disponible. Notez que seul un montant au prorata des frais d'inscription sera mis à disposition pour être reporté à la deuxième équipe. Cela ne s'est jamais produit à ce jour, mais doit être souligné.
Some combine participants join up with an existing team without the help of FPF. There tends to be some team captains recruiting at the event each season, and teams and participants can link up on their own directly at the field.
Those particular cases will have the option to pay their team captain instead, and no fee will be owed directly to FPF. The fees paid to FPF are reserved for players who require FPF to match them with a team.
.
Certains participants à la séance d'essayage vont rejoindre une équipe existante sans l'aide de FPF. Il y a généralement des capitaines d'équipe qui recrutent lors de l'événement chaque saison, et les équipes et les participants peuvent se connecter seuls directement sur le terrain.
Ces cas particuliers auront la possibilité de payer leur capitaine d'équipe à la place, et aucun frais ne sera dû directement à la FPF. Les frais payés à la FPF sont réservés aux joueurs qui demandent à la FPF de les faire correspondre avec une équipe.