If you're looking to join an existing team this coming season, we encourage you to register as an individual, below. Please fill out the following form to add your name to the list of players FPF will place on a team prior to the season.
The option exists to either be placed on an existing team, looking to complete its roster; OR FPF may build a team made up exclusively of individuals like you! Both options are possible depending on a few variables.
***
Si vous cherchez à rejoindre une équipe existante cette saison à venir, nous vous encourageons à vous inscrire en tant qu'individu(e) ci-dessous. Veuillez remplir le formulaire suivant pour ajouter votre nom à la liste des joueurs que la FPF placera dans une équipe avant la saison.
Vous avez la possibilité d'être placé dans une équipe existante qui cherche à compléter son roster, ou bien FPF peut construire une équipe composée exclusivement de personnes comme vous, qui se sont inscrits individuellement ! Les deux options sont possibles en fonction de quelques variable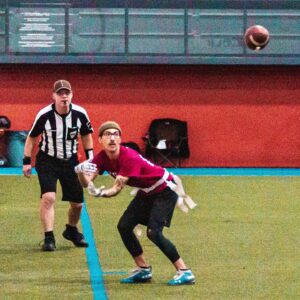 Calling all the
looking to play FPF, but don't have a team!
Attention aux
qui cherchent à jouer à FPF, mais qui n'ont pas d'équipe!
UPCOMING SEASON TRIAL SESSION // SÉANCE D'ESSAI DE LA PROCHAINE SAISON
Location/Lieu: Complexe Multisports de Laval (Dome Field #3)
Date: Wednesday, December 7, 2022 Time/Heure: 9:15 pm to 10:30 pm
All individuals who fill out the form below are invited to a trial date we call our pre-season trial session.
Trial session participants who would like to move forward and register will have until a specified date to pay their full fees to the league. Once a player has paid in full (by the deadline date) FPF will guarantee him/her a spot on a roster prior to the start of the season.
Once placed on a team, players are asked to note that no refunds are offered, and that all payments are final. Due to the nature of matching strangers together on a team, there is a possibility that some added players may not mesh perfectly with the rest of the team. If both the captain and player agree to a release, the option to switch teams will be made available. Note that only a pro-rated amount of the registration fees will be made available to carry over to second team. This has never occurred to date, but should be pointed out.
If someone is unable to attend the trial session but still wishes to sign up for the season, they may do so. An FPF administrator will schedule a call to get an idea of your caliber.
.
Toutes les personnes qui remplissent le formulaire ci-dessous sont invitées à séance d'essai " de pré-saison !
Les participants de la séance d'essai qui souhaitent procéder et s'inscrire auront jusqu'à une date précise pour payer leur frais à la ligue. Une fois qu'un joueur a payé (avant la date limite), FPF lui/la garantira une place sur une équipe avant le début de la saison.
Une fois placés dans une équipe, les joueurs sont priés de noter qu'aucun remboursement n'est offert et que tous les paiements sont définitifs. En raison de la nature de faire correspondre des inconnus au sein d'une équipe, il est possible que certains joueurs ajoutés ne s'intègrent pas parfaitement avec le reste de l'équipe. Si le capitaine et le joueur acceptent une libération, l'option de changer d'équipe sera disponible. Notez que seul un montant au prorata des frais d'inscription sera mis à disposition pour être reporté à la deuxième équipe. Cela ne s'est jamais produit à ce jour, mais doit être souligné.
Si quelqu'un ne peut pas assister à la séance d'essai mais souhaite tout de même s'inscrire pour la saison, il/elle peut le faire. Un administrateur FPF planifiera un appel pour avoir une idée de votre calibre.