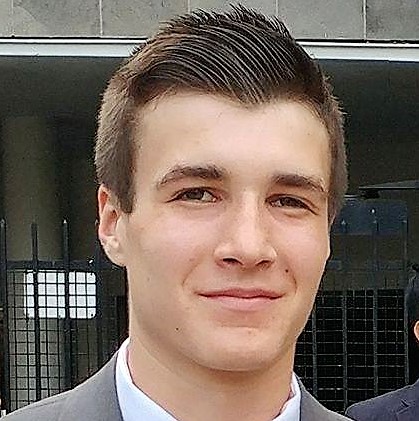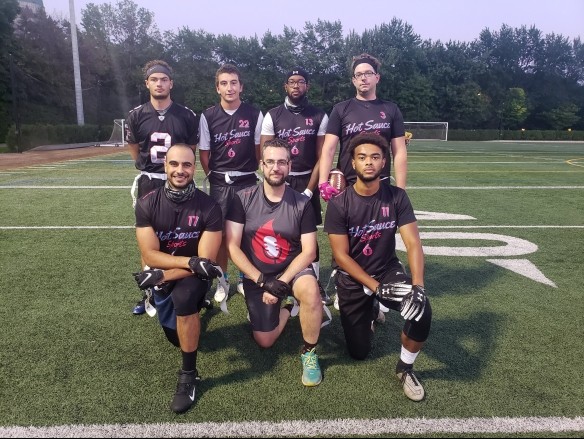 Hot Sauce Sports have done it! They won their first game defeating Unknown Talent 30-18 last Wednesday.
Quebec Goes Red, FPF Isn't Dead
Tuesday, Sep 29, 2020
Tier 3 | Tier 2 | Tier 1 | Co-Ed Cup
While it seems like most of Quebec is grinding to a halt, sports are one of the rare sectors that have been given permission to go ahead. FPF is lucky to still be able to continue with the season as planned. However, we need to be aware that we are still in a precarious situation. It is more important than ever to take every precaution. If you feel any symptoms or have been around someone with symptoms, please do not put the league we all love in danger . For all future games, consider wearing those neck gaiters you were given to wear in the huddle. FPF is one of our only ways to escape from confinement over the next 28 days. Let's all proceed with caution so we can keep on playing.
On a slightly cheerier note, the regular season concludes this Wednesday and the playoffs will start next on Monday October 5th. For all your playoff information, checkout this article posted on the FPF website: https://preview.mailerlite.com/j9v5m3
Week 8 Recaps:
Hot Sauce Sports (30) vs Unknown Talent (18)
In their pen-ultimate game, Hot Sauce Sports finally managed to win their first game of the season. Unknown Talent showed up late and their opponents were awarded 12 points. That means the match started with HSS up 12-0 before they even touched the ball. Those points turned out to be critical as HSS finished by winning this match by exactly 12 points.
While many will be quick to attribute this win to Unknown Talent showing up late. I think Paolo Della Rocca also did a fantastic job of managing this game. He slowed down the pace of the game and completed short pass after short pass to both march down the field and run time off the clock. What was perhaps most impressive was he was able to do that without using his top receiver, Justin Blanchard. Kareem Anthony Chilcott was the unlikely hero of this match with four catches for fifty yards and two scores, including a 31-yard TD reception on the last play of the game to secure the first win of the season for his team.
As for Unknown Talent, their ability to win is subject to the quarterback play of Raffaele Morelli. When Morelli is performing well, this team has the athletes to excel and take on just about any team in this division. However, for every great game Morelli has, he has a game like this one versus HSS where he passes for 90 yards and a single touchdown.
Le Speakeasy (19) vs Goblin Gang (18)
Avec cette mince victoire, Le Speakeasy se sont donnés une chance pour se qualifier pour le cash bracket. Les quatre premières équipes de Tier 3 vont se lutter pour les grands honneurs. Le Speakeasy ont besoin d'une défaite des Trapstars pour se qualifier.
D'ailleurs, Le Speakeasy ont réussi à se faufiler avec la victoire malgré la performance médiocre de leur quartarrière Mathieu Ouimet. Il a seulement complété huit passes pour 82 verges. Cependant, il a ajouté 26 verges au sol et a réussi à scorer trois fois. Ses trois touchés et un converti d'un point ont été juste assez pour donner à son équipe la victoire.
Si l'attaque de Le Speakeasy a eu de la misère, ils ont réussi à gagner parce que leur défense a donné même plus de misère à l'attaque de Goblin Gang. Ils ont seulement accordé 69 verges par passe. Vincent Richard et Vladimir Michel ont chacun réussi une interception clé pour raccourcir le terrain pour leur attaque. Sans ces deux interceptions, je doute que Le Speakeasy auront pu se faufiler avec la victoire.
Par contre, si cette équipe espère se rendre loin en série, ils vont devoir trouver une façon de produire plus offensivement. Ils ne vont pas gagner de championnat en passant pour 80 verges par match.
South Side Speedsters (14) vs Lionhearts (12)
I expected more from the South Side Speedsters and Benjamin Reid this season. Reid has all the arm talent you could hope for in a Tier 3 quarterback and has enough seasons under his belt to understand how defences work in FPF. Despite all that, Reid has not excelled this season and this is exactly what we saw in their final game of the regular season. Reid passed for 116 yards but was only able to find the end zone on two occasions. One thing that the Speedsters do well is spreading the ball. They completed three or more passes to four different receivers in this game. Leading that group of pass catchers was Nicolas- Emanuel Pierre who accounted for both of his team's scores as well as 54 receiving yards.
As for the Lionhearts, this season has to be bittersweet. On the one hand, they emerged from a few seasons of struggles and found their quarterback of the future in Carmelo Di Giovanni. In this game, Alex Montanaro also proved that he is one of the Tier's best rushers. He recorded one of the most dominant performances as a rusher this season with six sacks. While there are a lot of positives to take away from this season for the Lionhearts, they did not make the playoffs and they lost countless close games. This team finished 2-8 but could have very easily been 4-4. All in all, I am excited to see what Lionhearts will be able to do next year. This is a team to keep an eye on because I have a feeling they will be turning heads in the near future.
Yin & Yang (20) vs Fightin' Tigers (20)
Here are two teams that play completely different styles of football. Yin & Yang are the definition of a run and gun offence. Quarterback Justin Weir is a master at scrambling around in the pocket to create time and space for his receivers and he is not scared to take off and run if there is nothing open. On the other hand, the Fightin' Tigers are all about rhythm. Once Seth Galina starts getting into a rhythm hitting those short and intermediate passes, he is next to impossible to stop. These two dueling styles went head to head last week and there was absolutely nothing to separate them. By nothing, I mean nothing. The game finished tied 20-20. That tie was enough for the Tigers to clinch the top seed in Coed.
Week 9 Previews:
Khansequence (5-2) vs Urgence Medic (5-1-1)
Urgence Medic ont tout à gagner dans ce match. Avec une victoire, ils accèderont au premier rang de la division. Par contre, une défaite leur feront chuter en quatrième place, une position derrière leur adversaire, Khansequence. Urgence Medic ont démontré une précision chirurgicale toute la saison. Leur quart, Jesse Dupuis n'a pas lancé une seule interception depuis le 19 août. D'autre part, Khansequence à amplement de talent, mais ils sont beaucoup plus prône à commettre des erreurs.
Prédiction : Urgence Medic
Pepperoni Boyz (5-2) vs Tough Lungs (3-3)
This is not going to be an easy match for the Tough Lungs. They are facing the Pepperoni Boyz and Joe Kano's air raid offence in the second game of their double header. Even without being exhausted from playing a game before, I have my doubts as to whether the Tough Lungs would have the size to match up with the Boyz's tall and athletic receivers. I have also said all season that stopping Tough Lungs is as simple as containing Justin Lerner.
Ultimately, I think the Tough Lungs will be out of breath and unable to compete for those deep balls that the Boyz love so much.
Prediction: Pepperoni Boyz
TuneSquad (3-4) vs Rainmakers (3-3-1)
TuneSquad have not been tracking in the right direction over the past couple of weeks, but I am confident that they will be able to rebound and win their last match of the season. I think this matchup plays right into TuneSquad's hands. We all know this team is solid offensively and struggle on defence. The same goes for Rainmakers. Both of these teams know how to move the ball, but in the end I think the rushers of TuneSquad will make the difference. They have combined for 11 sacks while Rainmakers quarterback Derek Kastner is one of the more sackable passers in this division.
Prediction: TuneSquad
Week 8 Team of the Week:
Every week, I will name 12 players to the team of the week. If you make the offensive team of the week, you cannot be on the defensive on and vice versa. When choosing the players for the team of the week, I do not consider the tier that the players are in. I only consider their achievements.
Offence:
Quarterback: Alexandre Fafard (Trojans, Tier 2) 16 completions, 269 passing yards, 7 TDs, 1 INT, 126.6 QB rating
Receiver: Sébastien Crisi-Lauzon (Braves Verts, Tier 1) 8 receptions, 107 receiving yards, 3 TDs
Receiver: Patrick St-Amand (Voodoo, Tier 2) 6 receptions, 122 receiving yards, 3 TDs
Receiver: Jonathan Garfinkle (KGP, Tier1) 3 receptions, 102 receiving yards, 2 TDs
Receiver: Justin Lerner (Tough Lungs, Tier 2) 6 receptions, 101 receiving yards, 2 TDs
Receiver: Chris Milard (Sweat & Beers, Tier 1) 7 receptions, 92 receiving yards, 2 TDs
Defence:
Rusher: Alex Montanaro (Lionhearts, Tier 3) 1 tackle, 6 sacks
Defensive Back: AJ Gomes (Khansequence, Tier 1) 2 tackles, 2 INTs
Defensive Back: Matthew Valente (Zone 6 Ballers, Tier 3) 2 tackles, 2 INTs, 2 PDs
Defensive Back: Jason Cassandra (Bada Bing, Tier 3) 2 tackles, 2 INTs, 1 PD
Defensive Back: Felix Proulx (Los Banditos, Tier 2) 3 tackles, 1 INT, 2 PDs
Defensive Back: Jeansley Valbonard (Zone 6 Ballers, Tier 3) 2 tackles, 2 INTs, 1 sack
Week 9 Picks:
| | | |
| --- | --- | --- |
| Home Team | Away Team | Predicted Winner |
| Khansequence | Urgence Medic | Urgence Medic |
| Sweat & Beers | Braves Noirs | Sweat & Beers |
| Tough Lungs | Les Gros Coqs | Tough Lungs |
| Pepperoni Boyz | Tough Lungs | Pepperoni Boyz |
| Les Gros Coqs | Half-A-Stars | Half-A-Stars |
| Los Banditos | Trojans | Trojans |
| Hot Sauce Sports | Texass Shorthorns | Texass Shorthorns |
| TuneSquad | Rainmakers | TuneSquad |
| Les Nains Johanais | Honey Martin | Honey Martin |
| Zone 6 Ballers | Trapstars | Trapstars |
| Yin & Yang | Kiss My Endzone | n/a |
We are now only hours away from the regular season wrapping up and frankly, I am excited to see what lies ahead. Just about every division has a few favorites by now, but below those leaders, there is very little separating 3rd place and 6th place. The most closely disputed matchups in Tier 2 and 3 may actually be in the runners up bracket. The exciting thing about the fall season is that even if you have an average season, you will finish by playing teams who are around your level and you will have a chance to end the season with a win.
With that, I will wish everyone a healthy final week of the regular season. As always, feel free to contact me at alexi@analog.ca with any comments or critiques.