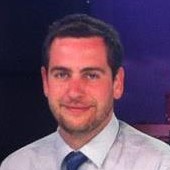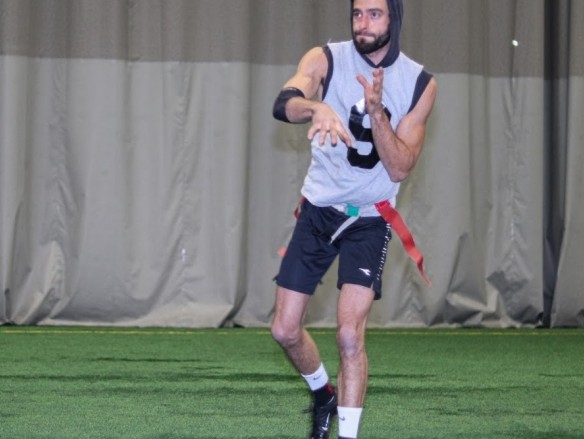 FPF Fall Cup Post Season Preview pt.1
Monday, Nov 04, 2019
Tier 3 | Tier 2 | Tier 1
The fall season is interesting. For us at FPF it's a time for experimentation. It's a different format than the regular season but, we've also changed the format each of the year the fall cup has existed. This time we added cash incentives for the top performing teams. Tier 1 will see 8 of 12 teams make it to the bowl round while Tier 2 and 3 will see 12 of 20 teams advance to the bowl round. The top 4 teams (with records combined from the Preliminary and Qualification rounds) will compete in the cash brackets. If you have any questions or suggestions for next season remember you can reach out to us and we'd love to hear from you!
Tier 1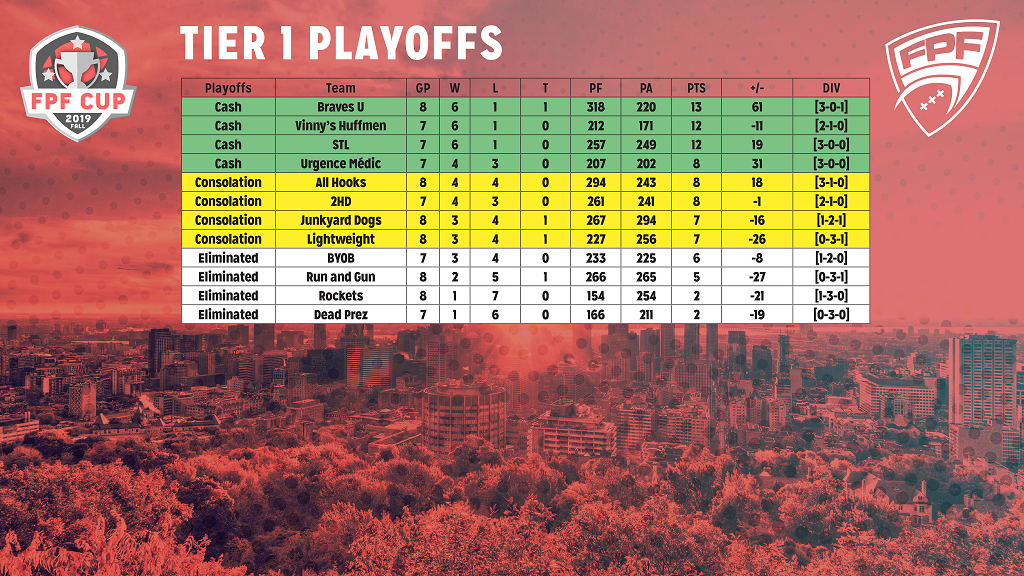 The Cash bracket still appears to have a team fighting for a chance to compete for green (or as this is Canada, every color except green). 2HD face Urgence Medic for a chance to compete in the cash bracket. Last time they played Urgence Medic were only 5 players for most of the game. This time around I feel like the best version of both teams will be on the field. If UM can't beat 2HD this time around, they certainly would not warrant playing in the higher tier.
Interestingly, Lightweight, who were excellent to start the initial round now need Dead PRez to beat BYOB to have a chance to make the Bowl Round. However, with Dead Prez having nothing but pride to play for they will need to truly relish the role of the spoiler in this one. Even a tie would send Lightweight packing (they do not hold any tie breakers in this scenario). Lightweight needs only to look as far back as their two lackluster performances to see why their fate has been all but sealed. A 20-18 loss to Vinny's Huffmen and a 12-12 tie to Run and Gun indicate that perhaps the boys in blue aren't deserving of a chance to compete in the next round.
Tier 2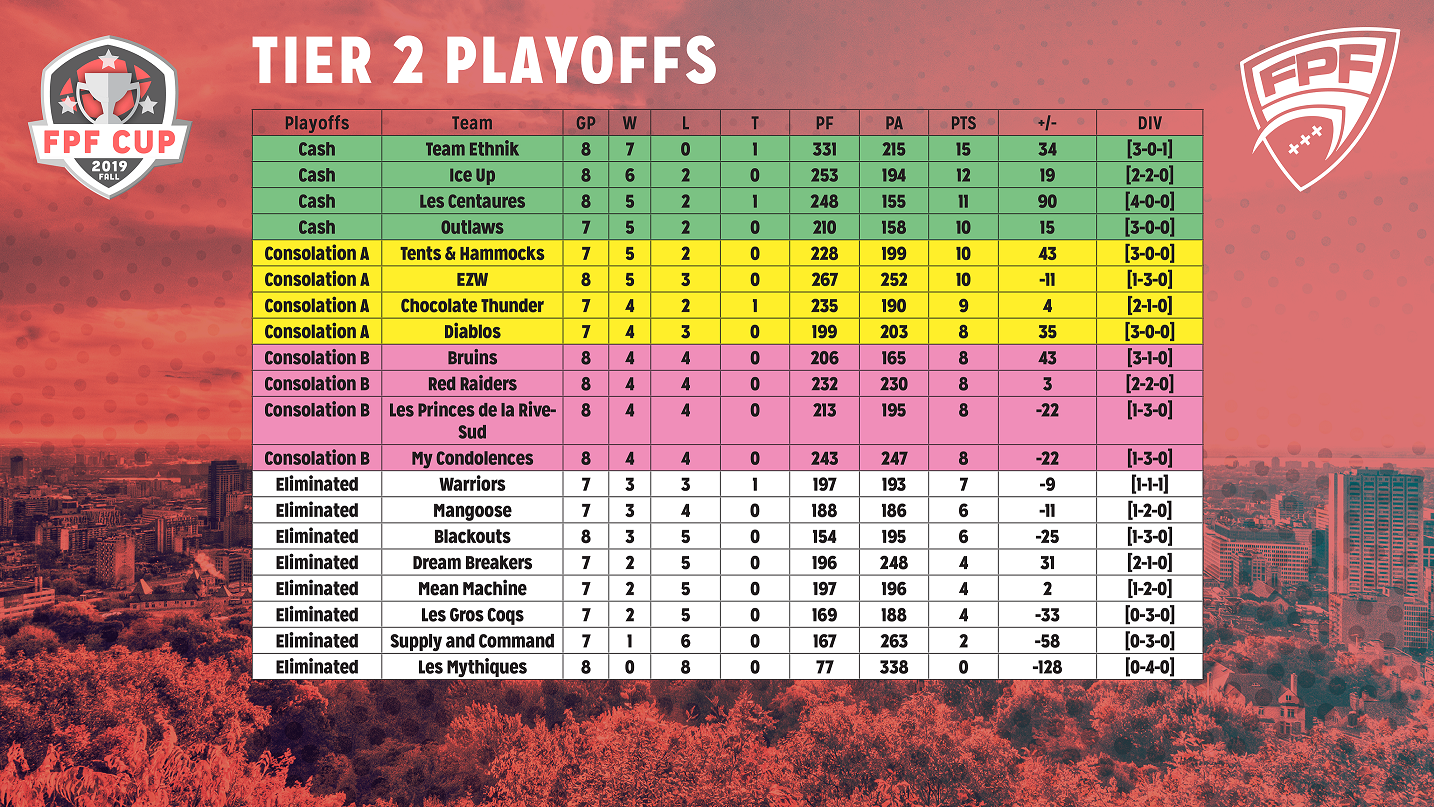 Tier 2 has some interesting results pending. While the division on the whole was more polarizing than we expected a few teams remain with a fighting chance to reverse their fortunes. Mangoose and Warriors both have a chance to jump ahead of My Condolences. Thomas Coutu and Felix-Antoine Lavigne have been a revelation. However, getting by Outlaws will be a tall order. Warriors face Chocolate Thunder in a matchup that may actually be the best game across the tiers this week. That game will take place on Wednesday so the Solimene boys will be armed with the outcome of the Mangoose/Outlaws game heading into their contest.
Outlaws also have something to play for. They are trying to fend off Tents & Hammocks. Should Stephen Harripersaud and his squad win their game it will not only bounce Mangoose but also secure their spot in the cash bracket. Should they lose they will need Mean Machine to beat Tents & Hammocks to have a chance at a cheque.
Finally, Diablos take on Dream Breakers and while they hold a place currently in the first consolation bracket, Diablos can lose that place with a loss. If Diablos lose their matchup they will fall beneath Bruins and appear in the next bracket. The book is out on Francois Martin. Teams know they need to play cover three and dare him to work underneath. So far, he has exceled in spite of that information. If Dream Breakers can stick to a disciplined deep defense, we will see big red knocked down a peg.
Tier 3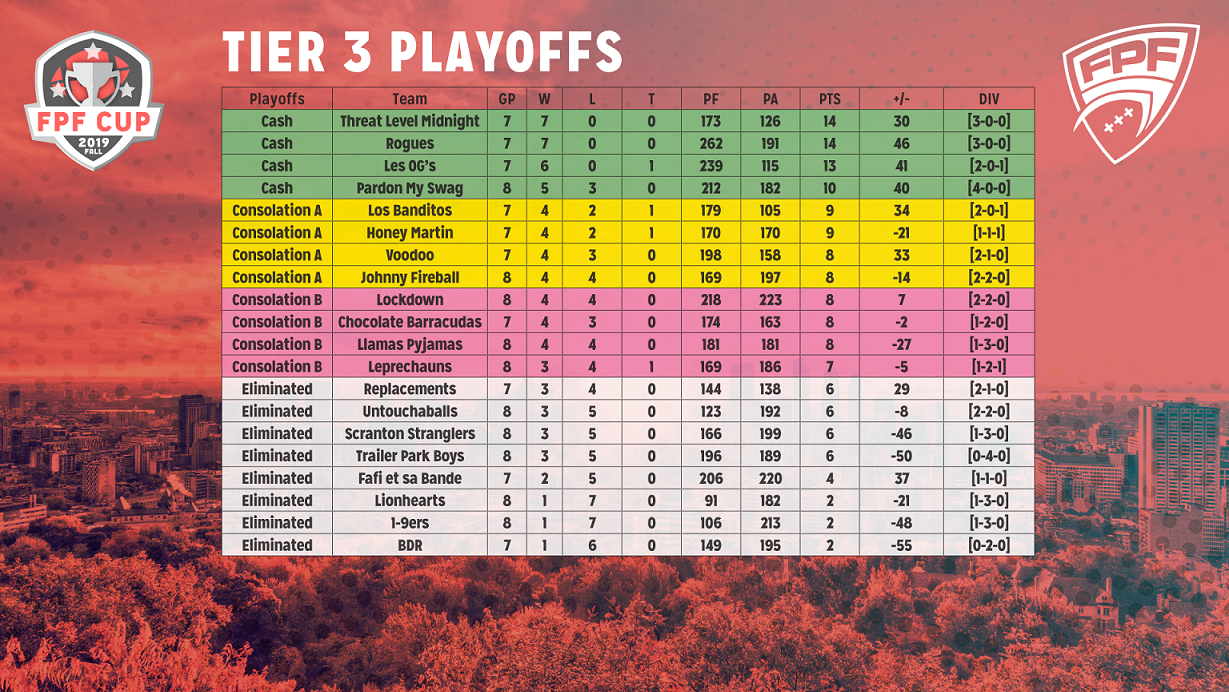 When it seemed as though the season was all but lost for Replacements, Frank Teoli-Colatrella and dem boys seem to have turned it around. Replacements have now won two straight and look to be the prohibitive favorites on Wednesday night against BDR. If Replacements are to win this game they will make Tier 3's Consolation Bracket B and that would see Leprechauns on the outside looking in.
In fourth place of the cash bracket, Pardon My Swag is holding on to a spot. However, Brad Evans and his palm trees (teammates) have completed all of their games. Los Banditos and Honey Martin both have a tie and either can take PMS' place in the cash bracket with a win. Los Banditos have a revenge date against Threat Level Midnight on Wednesday night. Meanwhile, Honey Martin are set to face Chocolate Barracudas for the first time this season.