Spring 2021 All-Stars/ Les Joueurs Étoiles Printemps 2021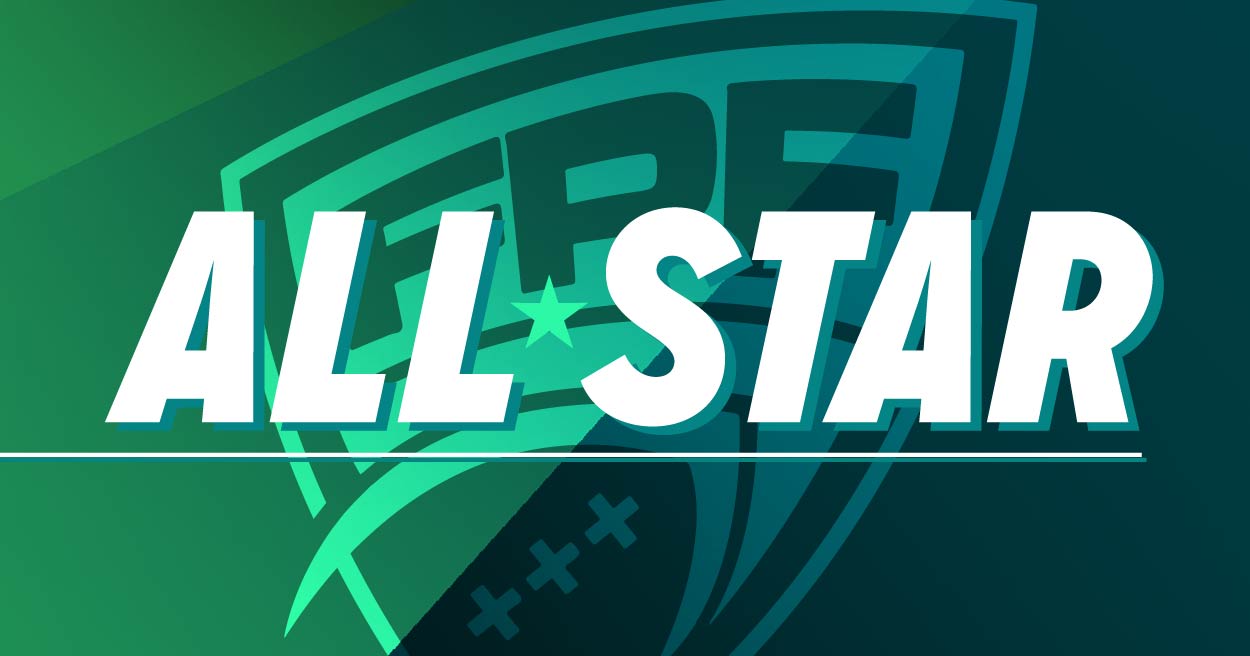 With the FPF Finals being held tomorrow, what better way to celebrate the near-end of the season than by announcing our Spring 2021 All-Stars. Below is the list of all 91 All-Star players that made their distinction in their respective divisions. 13 players per division were named as All-Stars for their accomplishments this season. Amongst those 13 selected, we had 2 QBs, 3 WRs, 3 DBs, 2 Two-Way standouts, 1 Rusher, 1 Snapper and 1 Flex Position, held for a special standout across the division that could not be ignored. Congrats on a great season, and for standing out amongst your peers! Note that unfortunately, we won't be holding the usual All-Star game that occurs shortly after the Finals. We hope to see you back on the field come October for the 2021 Fall Cup season!
Avec les finales de FPF ayant lieu demain, quelle meilleure façon de célébrer la fin de la saison qu'en annonçant nos joueurs par excellence du printemps 2021. Vous trouverez ci-dessous la liste des 91 joueurs étoiles qui se sont distingués dans leurs divisions respectives.13 joueurs par division ont été nommés comme des joueurs par excellence cette saison. Parmi les 13 sélectionnés, nous avions 2 QB, 3 WR, 3 DB, 2 joueurs Two-Way , 1 Rusher, 1 Poule et 1 Flex , tenus pour une distinction spéciale à travers la division qu'on ne juste pouvait pas ignorée. Félicitations pour votre excellente saison et pour avoir démarqué parmi vos adversaires! Notez que malheureusement, nous ne jouerons pas le match des étoiles qui se déroule quelques jours après la conclusion de la saison. Nous espérons vous revoir sur le terrain au mois d'octobre pour la saison du Fall Cup 2021!
FPF Spring 2021 All-Star List
Division A
Daniel Lazzara (Khantraband)
AJ Gomes (Khantraband)
Serge Pilon Jr. (Khantraband)
Jonathan Maheu (Braves)
Mike Pierrecin (Braves)
Alex Pilon (Braves)
Georges Gariépy (Braves)
Jean-Daniel Chevalier (Braves)
Julien Paiement (Braves)
Kevin Wyeth (All-Stars)
Patrick Jérome (All-Stars)
Kishon Thompson (All-Stars)
Jeremy Murphy (Chernobyl – 21)
***********************************
Division B
Sean Avraam (Here For The Beers)
Jordan Allard (Here For The Beers)
Chris Milard (Here For The Beers)
Sean Semerjian (Junkyard Dogs)
Jason Rossie (Junkyard Dogs)
Rory Semerjian (Junkyard Dogs)
Paul Lapierre (Junkyard Dogs)
Jonathan Grizzley (BYOB)
Mathieu Lepage (BYOB)
Erik Brousseau (Get Off Our D)
Jonathan Lyristis (Get Off Our D)
Raoul Baroudi (Get Off Our D)
Mathieu Houle (Urgence Médic)
***********************************
Division C
Stephen Harripersaud (Blessed)
Marvin Steinberg (Blessed)
Jonathan Svetna (Blessed)
William Paquette (BBALLERS)
Jaylan Greaves (The Infantry)
Corey Walwaski (The Infantry)
Eddy Lee (The Infantry)
Nicolas Blais (EZW)
Charles-Olivier Lavigne (EZW)
Raffaele Morelli (Blue Dreamers)
Noah Groper (South Harmon Institute of Technology)
Jordan Panetta (Silent Ticklers)
Adam Rosen (Silent Ticklers)
***********************************
Division D
Benjamin McMahon (Vultures)
James Drysdale (Vultures)
Kevin Donnet (Vultures)
Justin Lerner (Tough Lungs)
Mathew Lerner (Tough Lungs)
Zach Zwirn (Bruins)
Mathieu Ouimet (Bruins)
Shaden Hetu-Frankel (Mean Girls)
Justin Blanchard (Hot Sauce Sports)
Luca De Gaetani (Tuts and Parlays)
Jordan Mcinnis (Pardon My Swag)
Michael Khazaka (Blackouts)
***********************************
Division E
Jeremie Ledoux (Dilly! Dilly!)
Michael Pietrobon (Dilly! Dilly!)
Maxime Ledoux (Dilly! Dilly!)
Gabriel Wiseman (Suicide Squad)
Jahmaal Roach (Suicide Squad)
Alexandre Noel (Suicide Squad)
Vincent Cheung (Save The Turftles)
Justin Sarlabous (Ravens)
Kamba Katchelewa (Ravens)
Jocelyn Calixte (Pincellos)
Matt Moreau (Pincellos)
Chris Williams (Menace II Sobriety)
Jason Cassandra (V-Town)
***********************************
Co-Ed 1 / Mixte 1
Sara Parker (3rd Down For What)
Alex David (3rd Down For What)
Kevin Lubin (3rd Down For What)
Justin Blackie (Fightin' Tigers)
Quaid Johnson (Party Mix)
François Deslauriers (Party Mix)
Philippe Aussant (Sriracha Hot Chili Sauce)
Vincent Marquis (Sriracha Hot Chili Sauce)
Camille Ste-Marie (Sriracha Hot Chili Sauce)
Tam Vilaydeth (Power Rangers)
Wade Jr. Shallcross (Power Rangers)
Constance Millaire (Power Rangers)
Jasmine Farmer (Power Rangers)
***********************************
Co-Ed 2 / Mixte 2
Mariève Girard (Les Semi-Croquants)
Louis-Philip Thibodeau (Les Semi-Croquants)
Marc Antoine Dupéré (Les Semi-Croquants)
Charles Montpetit (Les Semi-Croquants)
Justin Weir (Yin & Yang)
Ryan Dobbs-Garnett (Yin & Yang)
Matthew Peacock (Yin & Yang)
Guillaume St-Jean (Funtastic 9)
Philippe Leroux (Funtastic 9)
Édouard Leroux (Funtastic 9)
Micky Mensah (Yin & Yang)
Loïc Robidoux (La Secte)
Godefroy Verron-Trudel (La Secte)