Championships, A Lady Named Ruth and Fight Night Round E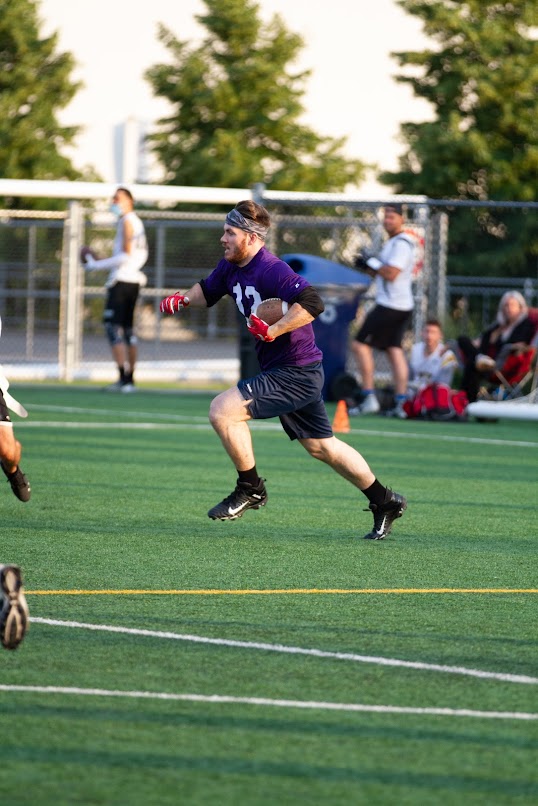 Peeze's Playbook: Championship Finals
I've played in one FPF finals in my career this far. At the time I was the snapper for Checkmate (arguably one of the teams responsible for FPF instituting a cap). The team was a prohibitive favorite from the preseason. We got to the field early and my teammate and now lifelong friend Alex David turned to me and said, "Hey Peeze, are you nervous?". I insisted I wasn't. Come on, we were by far the better team. This was the start of something too. We had a special group that would go onto appear in so many finals.
His gaze looked up to where the cameras were. His eyes moved to the broadcast booth, then the trophies and championship tshirts. Finally, he looked upon the many that were in attendance. It was at this moment that I knew this wasn't a regular game. Everyone seemed a little bit off. We started with the ball and as Fred Morisette cocked it back to take an immediate deep strike the ball fluttered slightly and didn't quite get to it's target. Mongoose intercepted the ball and we would never recover.
After leaving the field that night I turned to my boys and said, hey we'll be back here, don't worry. Little did I know that this moment would replay in my head like the ending of the movie The Sandlot. Within a few short seasons, that team would not exist and I don't think two members of that squad still play together on any team in FPF. It was a truly special moment and I failed to grasp the gravity in that moment.
Still, I lace my shoes for every game. I keep coming out to that poorly ventilated and horrible smelling facility each season in hopes that I'll be able to return to that moment. The truly addicting part of FPF is not in winning the championship or even the quest to do so but rather the moments you create along the path. For one team this weekend, it will be a beautiful memory of triumph, for the other, a lost opportunity
Championship Finals Preview
Pincellos are the underdog in this one. I mean this in every sense of the word.  Firstly, our FPF panel of experts all picked against them.  Secondly, the Ravens were heralded from jump street.  Before the season started, they were a known quantity.  We knew what we were getting and what to expect.  The names were familiar and they have an unquestioned FPF and tackle football pedigree.  Pincellos were the opposite. They remind me of the fictional boxer in a movie fictionally depicting the 50's and 60's.  This back alley brawler who enters the gym with an under shirt that smells of whiskey and sweat stains that run three days deep, a pair of shorts that are faded and ragged and sneakers held together with electrical tape. 
Prior to this season Vince Romano quarterbacked a middling low division team called BDR. Some of the players from that team have found their way to Pincellos roster (Jordan Farray, Jocelyn Calixte, Mike Apa to name a few). Still, no major free agents were added. Clearly the only discernible difference is the play of Vince Romano.
Regrettably, his play has drastically improved. Putting aside my well documented bias for a moment (but only for a moment, I assure you), His 35:9 touchdown to interception ratio is on par for success in FPF. Most successful QBs in FPF are between 3:1 and 4:1 in that department. This is a stark difference from 21:14 and 19:15 seasons in his rearview mirror.
Still, despite the improvement, the main story line for Pincellos is whether or not their defense is for real? Of, I love the good old: "are they for real?" debate. Sports radio has used this to sell us mattresses, local pizza specials and used cars. It's great because it's subjective and while the question is always about process the answer is always about results. Pincellos recorded 18 interceptions in the regular season and added another 12 in the playoffs thus far. The leader in the regular season was Matt Moreau but Jocelyn Calixte took the lead in the postseason.
Perhaps the strength of Pincellos is their depth. Beyond several of the more familiar names the team gets contributions from every player on the roster. You generally know what they're doing on defense but they've largely been successful because of their discipline and execution. Mike Apa is a great example of this. You know he's going to be in the flats. He's mostly going to try to take away a single look and when the ball is caught he's quick enough to break on the runner and collect the flag. Alejandro Dizazzo is not the most heralded receiver on the team but has contributed throughout the season. Despite only seeing 25% of the offense's targets during this postseason he is second in touchdown receptions in that time. Similarly, Giancarlo Brullo hasn't done a ton during the playoffs but is generally a big play waiting to happen.
The Ravens are everything you want in an FPF champion. They're a home grown team who has played together since 2016 and have made improvements along the way. It's very much a top down approach as Mathieu Houle has taken a talented roster and used his higher division pedigree and championship experience (he has 5) and led this talented bunch while keeping everyone calm as they progressed through the season. The season is long and 44 minutes plus 10 plays can be that way as well. Flag jesus and his brother Joel Houle are enough on their own to be dominant in division E.
Mathieu Houle's size and speed is simply too much for teams in the least physical division to contend with. Joel Houle knows this and their familiarity and timing allows for Joel to fire balls into tight windows and Mathieu knows how to use his body to bring it in. To keep the boxing analogy, Mathieu Houle knows he's the better fighter in most rings. He's got the mindset of a bruiser who will lean on you for rounds and systematically break you down with a combination of body blows and flurries of kill shots that is bound to have even the best of competitors grabbing for the ropes and gasping for air.
Joel Houle is remarkably only in his second full season as a full-time QB. He is what he's been since he got into the league. A fantastic athlete with a monster arm. His numbers this season were pretty much identical to winter 2019. In the playoffs however, his completion percentage has increased by nearly 6% and his QB rating has gone up to a stellar 108.6. He seems really focused and is playing as well as we've seen him play in FPF.
The big offseason acquisition (among a couple) was Kamba Katchelewa who's 6'0" 227 lb frame is terrifying when lining up at linebacker for McGill but is pure menace on an FPF field. His size, speed and incredible feel for the game had him contributing instantly. He actually leads the Ravens with 5 postseason touchdowns. Donovan Martel didn't come in with the same level of cache as his teammate but he's actually one of my favorite players on the Ravens. He can be put anywhere on the field on either side and succeed. The same can be said of Adham Hassan who has helped solidify what is already an imposing defense. A key part of that defensive unit also seems to be Fustel Sumu. I'm not a believe in the idea that players can be "clutch". In my estimation, talented players make plays. The best players make plays when it matter most. Still, many would call Sumu clutch as he always seems in position to make a big play. On the offensive side of the ball Timothee Nzogu who isn't the primary target by any stretch but averaged over 18 yards per catch during the regular season. He and Lambert Chauvel also shared rushing duties throughout the season and both are athletic enough to disrupt some of the more mobile QBs.
Finally there is one major player for any team to contend with is Justin Sarlabous. Just when you thought you had all of the team's size and speed dealt with, this giant creature appears and man is he a ton to contend with. He's good enough to be the number one defender and receiver on any team in divison E. The fact that he's on the Ravens is simply an embarrassment of riches.
Pincellos come into this game rolling. They've steamrolled the competition during the second season. Ravens have had a tougher path to the finals and even then, they ripped the hearts out of Dilly! Dilly! Who were significant contenders in their own right. This game if anything will show us whether being battle tested is better than coming in as hot as possible.
Keys to Success for Pincellos:
They simply can't get behind or turn the ball over. This will be difficult because the Ravens could simply man up and win every matchup across the board. To prevent that Vince "Karen" Romano will need to use trips and motion to put his players in position to beat the coverage. Additionally, he needs to have rub routes and double moves ready in case Ravens do this.
Defensively the Pincellos should try to limit intermediate attacks and deep passes. This is especially important on 3rd and fourth downs. This is risky but they'll need to risk everything to win this game. I think physical play is important too because they will, at the very least, have to show that they won't be intimidated.
I think Pincellos need to slow the game down. I don't think they can go score for score if Ravens put up 8 scores. But if there's 4-5 possessions per side Pincellos can win if they have the ball last.
Keys to Success for Ravens:
Use your size, use your speed.  Ravens should win every matchup across the board.  I think if Mathieu Houle can neutralize Jocelyn Calixte, the game could get out of hand early. 
Timothee Nzogu or Lambert Chauvel needs to keep Vince Romano in the pocket.  Vinny is a little like Big Ben. He's about as mobile as a high school teacher wearing a tree costume while trying to help prepare the students for the fall recital. However, he is pretty good at extending plays and getting to the sideline. A wide angle rush may be the key to having him throw off his back foot.  Romano tends to look down the field later than he should.  Play aggressive underneath and force the late deep throws.  He doesn't have the strongest arm so this could create issues for the Pincellos offense.
On offense, Joel Houle needs to stay patient. The body blows will open up the kill shot. To many teams have tried to jump on Pincellos early and paid the price.
Prediction:
Ravens 33- Pincellos 13
Denouement
For those who have any thoughts, commentary or complaints, I am very easy to find. I'm @peezehss on twitter, @pdellarocca and Peeze Della Reeze on facebook. You can also take a chance by emailing me at paolo@flagplusfootball.com but I don't check it because it's a death trap of junk emails all trying to sell me hair and penis growth solutions. I really need to use incognito mode.
Remember that each week you can join the party on our Facebook page or at www.youtube.com/flagplus on our weekly podcast: Calling the Audible. We are still trying to figure out when the shows will be available and how to get it live on air.
Till next week, I want to thank you falettineme be mice elf agin!