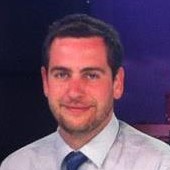 Urgence Medic fell to Braves U this week - what about some other teams?
Peeze's Playbook: Week 3
Monday, Sep 30, 2019
Tier 3 | Tier 2 | Tier 1
Working for FPF is an interesting experience. We have ownership of our work. We take pride in what we do. The culture is a blast and we get to work in sports. It's what everyone wants in a work experience that doesn't offer more than abject poverty (real wealth is measured in happiness and alcoholism).
We also try to challenge ourselves to do new and innovative things. This is especially true when it comes to our media coverage. The articles have been somewhat sparse to to start the season and for the most part it's due to the fact that our infrastructure doesn't support our ideas. We are improving it and you should be getting more content moving forward. Reach out to me for thoughts, complaints, and commentary by messaging me on facebook where I am Peeze Della Reeze or on twitter @PeezeFPF. You can also reach me by email at paolo@flagplusfootball.com.
If you hadn't caught it yet you can watch episodes of our weekly podcast on our YouTube page. You can also join the party live by watching on Facebook live every Thursday starting @ 7:15pm.
Michael Solimene Is The Next Big Thing
I've always been a fan. While I haven't been a fan of the Warriors and while their reputation for incessant whining for calls has been warranted in the past, I have always appreciated their talent. Mike Solimene has been up and coming for a while and, to be honest, I think he's arrived. In his early seasons in FPF, his style was akin to Francois Martin. He has a big arm and talented receivers and he would just throw it deep and let athleticism take over. This season, in the small sample size I've seen him use all of his pieces and really carve up defences. In the red zone he is absolutely deadly.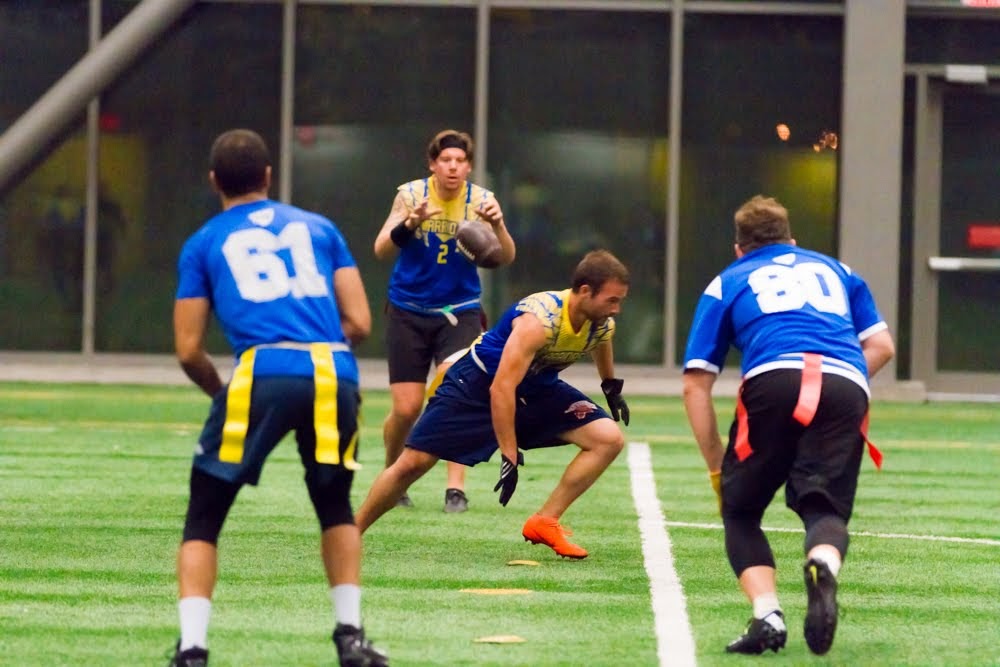 This is a league wide article and as such some players may not be familiar with "O Solimene". In his first two season in division E and 6 Mike Solimene threw 91 touchdowns and 22 int yerception in his first two seasons. As he's moved up his numbers have been impressive including a QBOY season where he posted a 41:7 line. Since the suspension of his brother Solimene has learned to spread the ball and after two games each of his starting receivers have at least 8 catches. Warriors are definitely a team to look out for in Tier 2, they can attack with any of their offensive weapons and pose a specific threat to tems that lack size or speed.
The Lockdown Defense is Anything But
Watching how far Lockdown has fallen kinda hurts. They were a team on the rise. However, without rusher Julien Paiment and aggressive flat defender Andrew D'Anna, the team has looked to be reborn for quite some time. Certainly, the offense seems constipated and they haven't scored more than thrice in a game this fall. Pat Riot has been stubborn and likely feels he needs to be until all of his receivers get ton the same page.
However defensively, Lockdown looks too static. Alex "the Eagle" D'Aquila would have you believe that he needs to teach his boys to walk before they can run. However, they aren't to be trained for a walk-a-thon, get these guys ready by having them attack. Worst case, the defense continues to allow points. Best case, you'll actually force turnovers. In week 2, Malcolm Archer had to come out of the game after suffering an injury and Joey Pirrera was sent in to rush. Pirrera has very good speed but lacks the experience to know when to break down and attack the quarterback and when to just cut off an angle.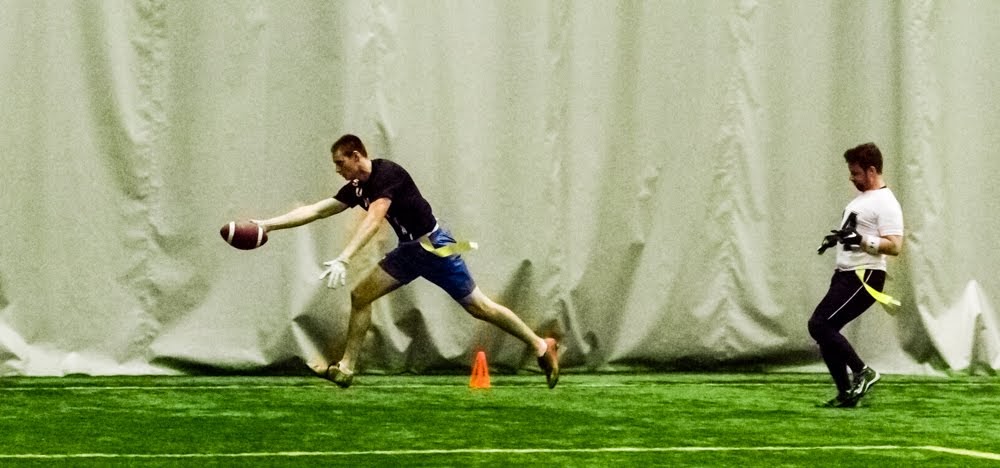 Week three saw Lockdown looking impressive for the first time this season. However, I think this had more to do with facing Untouchaballs who, save for Olivier Doleyres is an entirely new FPF team. They declared their coverage early every play and Pat Riot was able to score points on. They forced interceptions by Nick Hajay and Pat Riot but it was once again against a remedial offense. After winning an unprecedented game against 1-9ers last week, a loss for Untouchaballs is not the worst thing. They will likely get to compete against teams more so in their caliber in the next round.
Nicholas Groppini is an Immense Value for his Rating
Nicholas Groppini is one of the original members of Unknown Talent. The team name has become less and less accurate over the past few seasons due to guys like Alex Barazzoni and Nicholas Groppini becoming household names. Groppini has already played for Simon Says. Most notably, Groppini had a pick 6 against Gino Di Fazio in a losing effort in the playoffs. Most recently we've seen Nicholas Groppini compete as a member of the 1-2 Urgence Medic. The team has underperformed to a degree (I believe roster inconsistency is the greatest issue facing the team this season. However, for the most part, whenever Groppini has been thrust into the middle and higher divisions he has held his own. He has shown to be a competent rusher and useful receiver. He's got a touchdown in each game he's played in this fall and has recorded a sack.
Trailer Park Boys Are Gettin' Learnt
Sometimes I have references that make me very happy. Other times, I'm going to be the only one who gets them. For those who have seen the Tailer Park Boys show but haven't heard of or seen "Gettin' Learnt with Ricky, here's a lesson on how to make a grilled cheese Sandwich.
The point of this poorly placed and ham fisted joke is to say Trailer Park Boys are improving. I will not say however, that they're IMPROVED just yet. Their 2-1 start is well earned. It is also a product of their schedule. Two things can be true! In their first two weeks they faced 1-9ers in Alexandre Masse-Dube's first start. In their second game they faced a less athletic Lockdown team. I thought when looking at the schedule when it came out that Sunnyvale's finest would need to win in week 3 to prove themselves. I thought that this would be the best test of their athleticism and they'd be facing an experienced quarterback in Mark Bellini.
Despite the record, Antoine Meunier has thrown 11 touchdowns and 7 interceptions. This is not a great ratio. It is worse if you remove the blowout against Lockdown. In weeks 1 and 3, Meunier combined for 5 toucdowns and 6 interceptions in those two games. Most teams at the bottom of Tier 3 will not use shoots and rotating coverage. However, it appears as though when he makes mistakes it is almost always against defenses that show some movement. The team can definitely take advantage of mismatches and blown coverage. Hugo Geoffroy and Phil Ramsey are both averaging over 12.5 yards per catch. The team defense is aggressive in the flats and takes away deep passes as well. Will Richard applies lot of pressure and overall Antoine Meunier has improved since his first foray last fall. The next step would be learning how to come off of a primary read when it isn't there and taking what the defense offers rather than always looking for the kill shot.
Mean Machine Are Starting to Look the Part
Mean Machine's offense to start the Cup season seemed rusty. Daniel Goloff simply couldn't keep drives moving and couldn't cap them off with a score. In their first game, they faced EZW who despite having a high powered offense, never seem to be able to stop their opponents. In that game, Mean Machine couldn't capitalize on Jeremy White having thrown 3 interceptions and Benji Zeigler didn't really get involved much on offense. In week two the Mean Machine offense couldn't slow the Warriors offense and with a single turnover to none, Warriors were able to get by Mean Machine.
Week three saw what we expected of them when the season started. Benji Zeigler took over the game on offense as five of his seven catches went for touchdowns. Mean Machine also made it a miserable day for Diablos offense. The offense has seemingly revolved around newly acquired Matt Lepage who represents 46% of the Diablos touchdown total and 39.7% of the team's total passing yardage. Week three saw that Mean Machine were capable of neutralizing a team's main target limiting Lepage to a single catch for a handful of yards. Adam Rabinovitch specifically got involved in the action on defense, intercepting 2 passes. It took 3 weeks but Mean Machine are looking more like themselves.
Gabriel Wiseman Needs to Change SOMETHING
It's hard to put your finger on what exactly is going wrong with Gab Wiseman. He's who he's always been. A risk adverse, intelligent mobile passer. He isn't known for his deep ball but will often set up opportunities by daring defenses to step up and deal with his quick release or his ability to buy time and allow receivers to ad-lib. Wiseman is completing over 60% of his passes. However, it does appear that defenses are adjusting to his play calling.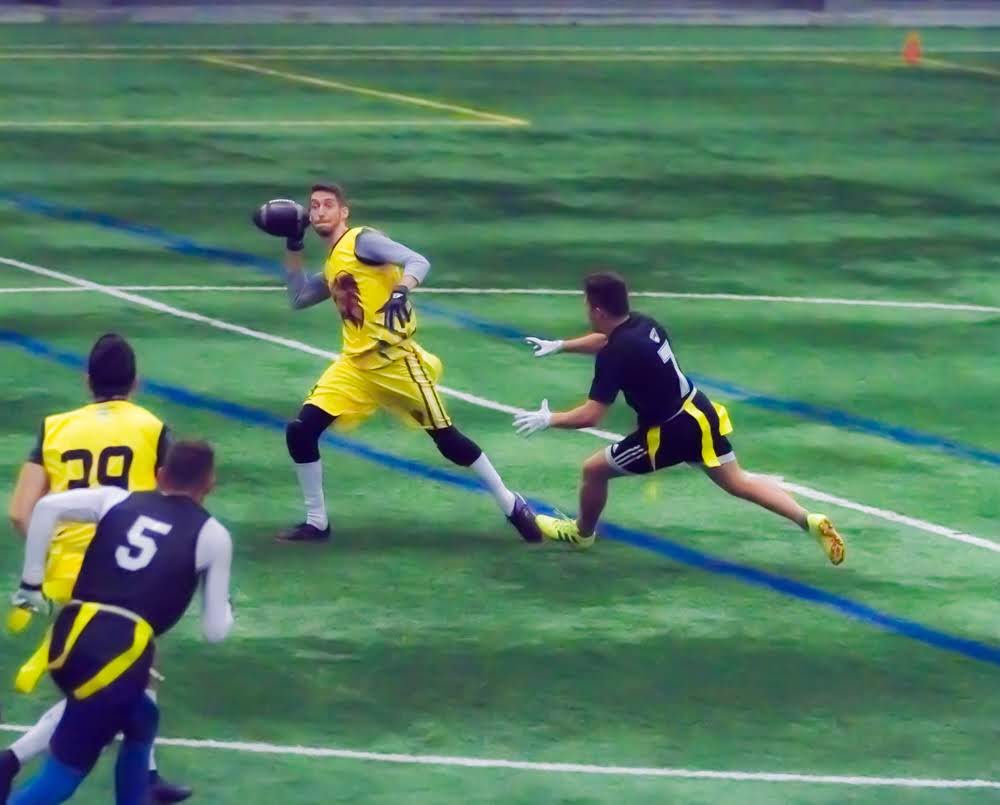 Given that Zach Zwirn missed the first game it is surprising to see that he still leads the team in receptions and is third in passing yards. The team also featured Ryan Aridi who has since gone down in a bizarre foot injury (his brother stepped on it?). I think we can see bigger contributions from guys like Nelson Pereria and Laurent St-Onge and we can expect that they'll be more dangerous in games to come. They lost two winnable games early and now are set to face Red Raiders who have been difficult for teams to matchup against so far in this tournament.