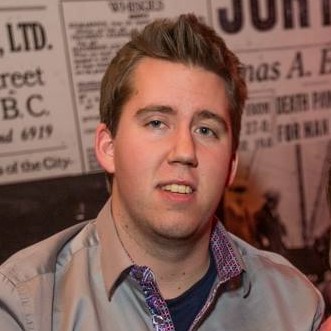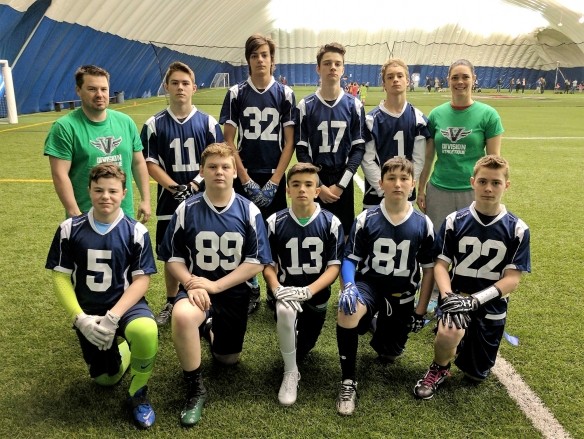 Voltigeurs are coming off a very impressive 7-0 start across 2 different divisions. Their biggest challenge awaits as they play Lions this Sunday.
FPF Jr | One last time
Friday, Jun 09, 2017
FPF Junior
One Last Time.
It's already been 7 weeks and our season is coming to a close. With the bye week during Victoria weekend and my vacations last week, I feel like I haven't covered FPF Jr in forever. Fear not, I will be at the fields on Sunday to see how we get to wrap this great season and move onto the playoffs.
With only one Sunday left before the playoffs, it's time for the coaches and players to make their final tweaks to their playbooks and test a few things out before the Big Show begins.
In next week's article, I will have a bit more information on the playoffs and how it'll all come down, but for now, let's focus on what's ahead and what will happen on THIS Sunday.
Let's get started.
Week 7
Who would've guessed that the Dusters' managed to get TWO wins in one weekend, that Voltigeurs would still remain undefeated even though they've moved up into Varsity, that Hurricanes would make a statement game this late in the season to seize the top spot? FPF at its finest.
Recaps
Varsity Division
Lions vs Cougars: On the morning were Lions reigned supreme, it felt like Cougars couldn't get anything going, at all. QB Evan White was dominant for the entire hour on both sides of the ball and Lions found a way to keep Ryan McGrath off the offensive scoresheet for the first time season. With very lttile leeway, this is one for the Cougars where they chalk it up as one to forget and move on whereas the Lions will build upon this week's performance to close out the season on a strong note heading into the playoffs.
Mustangs vs Longhorns: Mustangs were the talk of the town against Longhorns as QB Coby White was all over the place for his team even playing some snaps as a receiver late in the game as they won 43-6. Regardless of how they looked at it, Longhorns had a bad outing on Sunday and one to simply forget and move on from. The only positive outline was Sam Crudo's 64 offensive yards showing he can lead a team as a very talented receiver against any given defences. With only one game before the playoffs for Mustangs, this is a great way for them to build momemtum heading into the playoffs.
Longhorns vs Voltigeurs: In one of the closest game of the season, Voltigeurs managed to get the best of the Longhorns in a defensive 18-15 battle. On a day that Alex Kahan will regret for throwing 5 interceptions, he still managed to get his team ahead in the first half with a 9 point lead before the first 22 minutes were over. Led by receiver Spencer Fitzpatrick, Longhorns offence finally found their rhythm before losing it again in the second half were the Voltigeurs turned the tables around and put up two scores to put this game away. Receiver Nassim Regragui continues to look unstoppable ever since his FPF debut as he gets another 3 touchdowns to add to his resume and there is still one game left for them to play!
Sophomore Division
Wildcats vs Hurricanes: In this week's biggest upset, Hurricanes managed to take down the once-favorite Wildcats in thrilling fashion 27-13. Although William Bradford's connection with Noah Smallwood looks better than ever, it wasn't enough to get through the gritty Hurricanes' defence led by all-star rusher Brenden Urquhart. In fact, using a combination of rushing attempts and passing attempts, Hurricanes' managed to put up an impressive 27 points on the Wildcats and their 20-6 lead at half felt like a insurmountable mountain.
Yellow Jackets vs Fighting Irish: In the defensive battle of the week, Yellow Jackets only mustered 13 points against the Fighting Irish who's defence continues to impress led by playmaker Jacob Provost and Lucas Piscopos. In fact, they managed to shut out the men in yellow in the second half, but their offence simply couldn't seem to find a way to get around Charles Presser and Jonathan Jaggerman as Evan Dias-Juliao's rush kept putting too much pressure and got the best of the Fighting Irish.
Freshman Division
Musketeers vs Tigers: In their first outing of the day, Tigers were up against the undefeated Musketeers and, although they couldn't manage to score on the hour, QB Noah Swaminadhan managed 100 passing yards and a pretty good 14/21 ratio. With a little bit more time, he might develop into a pretty good quarterback, but Kaydon Shaw once again stole the show as he managed to put up 3 touchdowns with only 10 attempts helped by impressive plays made by receivers Brennen Dias-Juliao and Massimo Moufrage.
Tigers vs Panthers: In their second game of the day, Tigers went up against the Panthers and, although it was a bit better this time around, fell 26-8. QB Noah Swamniadhan managed his second 100+ yard passing game of his career in back to back starts, but it wasn't enough to put pressure on the Panthers who's offence looked impossible to stop as three Qbs (Massimo Longo, Kevyn De Serres-Payne and Darius Paiement) got at least one passing touchdown. Lawrence Brassard and Thomas Hemens had some good plays for the Tigers offensively which leads us to think they've got plenty left in the tanks for the playoffs in two weeks time.
Players of the Week – Week 6
Although I was absent last week, great performances do not go unnoticed.
Matthew Eiley (Dusters): In two hours, he managed to get 5 touchdowns, an interception and almost a hundred yards. Very impressive.
Max Kadanoff (Mustangs): After a few slower weeks, he re-emerges as a top receiver for his team with 90 offensive yards and 2 touchdowns.
Ryan McGrath (Cougars): With 40 receiving yards, a touchdown and two interceptions, is there anything he cannot do on a Sunday?
Brennen Dias-Juliao (Musketeers): Probably the craziest stat line of the week as he gets 2 tackles, 1 sack, 2 interceptions and brought one back for six. Great job.
Evan White (Lions): His best game to date with 7 touchdowns, 306 combined yards and a 153.9 QB rating. Wow.
Players of the Week
Massimo Moufrage (Musketeers): With two catches for two touchdowns and an interception on defence, needless to say he earned himself the MVP of his game on Sunday.
Evan White (Lions): Is there anything he cannot do? With 7 passing Tds and 3 interceptions on defence, he was an absolute headache to figure out. Well done.
Phoenix Thomas (Panthers): Led his team in yardage, catches and got himself a nice touchdown and helped his team get the win in their last game against the Tigers.
Coby White (Mustangs): With 6 passing touchdowns and 2 interceptions on defence alongside a few catches offfensively, he was all over the place on Sunday. Kudos.
Brenden Urquhart (Hurricanes): It's starting to feel like a regular thing for him to post big numbers as a rusher. With 4 sacks this week, he keeps impressing the bystanders!
Nassim Regragui (Voltigeurs): With 3 interceptions on defence and 3 receiving touchdowns, he definitely earned the MVP this Sunday.
Crystall Ball and Shenanigans
Wildcats vs Yellow Jackets: In a matchup that could potentially become a preview of the first round of playoffs, Wildcats will attempt to get over their slump and edge the Yellow Jackets whereas the Yellow Jackets will attempt to have their revenge after their week 3 loss to the previously mentionned men in blue. With the tandem of Charles Presser and Jonathan Jaggerman having, possibly, found their match against T'Shawn Hinkson-Frenette and Jaden Frenette, we're bound to see guys like Jesse Dym and Noah Smallwood really emerge for big gains and big plays on Sunday. I can't wait.
Hurricanes vs Fighting Irish: The battle of two of the best defences in the division will take part on Sunday morning in Papineau for the last time this season. With a win, Hurricanes would clinch the #1 seed in Sophomore and guarantee themselves a spot against the winner of the 4th and 5th seed in the first round of the playoffs, earning themselves a nice "bye". But first, Fighting Irish will look to upset the currently favorite led by defensive playmakers Jacob Provost and Lucas Piscopos. If their offence can get a few points on the board, we might have ourselves an absolute thrilling finish.
Dusters vs Hurricanes: In the second game of their double-header, Hurricanes have the now red-hot Dusters led by offensive sensation Matthew Eiley (who got 5 touchdowns in his last 2 games) and their rusher Adam Lieblein who managed 3 sacks in his last two starts. If the Dusters can come back from their bye week with the same raw emotion and passion that led their previous week into a double victory, they might just finish their season on the brightest of notes.
Musketeers vs Panthers: Musketeers will look to finish their season with a perfect 8-0 record forcing the Panthers into a 4-4 final standing. If everything goes according to plan, we'll see, once again, Kaydon Shaw toss dimes to playmakers Massimo Moufrage, Cam Trickett and Devin Wallis. Unless Caleb Perks and Phoenix Thomas can reverse the fire with the help of defensive star Zacharie Gadbois, this might just be the preview of the Freshman finals.
Cougars vs Mustangs: Mustangs really caught fire in the second half of the season once they've found what really worked for them and what didn't. With the help of two-way star player Coby White and the newly appointed Dylan Hacker, the Cougars will have their hands full keeping this game within reach due to the Mustangs' ability to punch in two-point converts with ease. Leave it to Ryan McGrath and Alexi Dubois to step in and ruin their opponents' plans when it matters the most. With an extra week of practice ahead of him, Olivier Gauthier might just do enough damage to help his team to one last win before the playoffs.
Voltigeurs vs Lions: In the most anticipated game of the season, the undefeated Lions will take on the undefeated Voltigeurs on Sunday afternoon and everyone's eager to see how this one will pan out once it's all said and done. Both teams might finally have found their counterpart as Felix Joly and Nassim Regragui will not be able to run free from Jacob Soles and Jake Applebaum as they have against the other 7 teams this season. If either QB decides to throw it up for their receivers, those 50/50 balls might actually be 50/50 and touchdowns may become the least of their worries. Hopefully, both teams will have their full roster ready to fight for the top spot in Varsity this week.
That's it for me this week. Hopefully I'll still have a job by week 2. Happy, annoyed, frustrated, humbled by my comments? Take a second to send me a quick message either via twiter (@DagenaisFPF) or via email (simon@flagplusfootball.com) and I'll be sure to rectify or simply explain my point of view. I'm also at the fields every Sunday; don't be shy to drop by and talk some football!