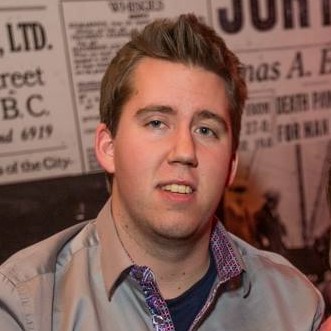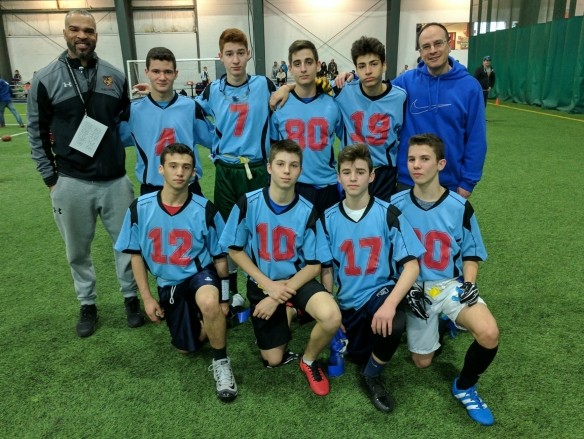 The Varsity Mustangs won a tight opening week match up against the Longhorns.
FPF Jr | Opening week impressions
Wednesday, Apr 19, 2017
FPF Junior
For many of us, Easter weekend is the beginning of something new and refreshing. Not only does it mark the "official" start of Spring in the mind of many, the end of what felt like a super long Winter season, but it was also the beginning of something great for many of us; a brand new season of FlagPlus Football.
Over the course of the weekend, on Saturday morning to be more exact, we've had the pleasure to see over a hundred players travel all the way down Lachine to battle out their first game of the season and meet their new coaches and teammates.
From the team pictures we've taken, I must say, we've got a bunch of good looking guys and girls out there who are poised to make this season an unforgettable one.
Some of you have seen me around on Lachine in the Dome handing out jerseys or helping out certain parents understand how different FPF is to our traditional football so I'll keep the introductions short; I'm Simon Dagenais, I've been around this league for over 7 years now and I'll be around the entire season (either at Papineau on Sunday mornings or Kirkland on Sunday afternoons) to either chat about this year's phenomenons, how hot it is outside or simply to help out with any questions you guys could have regarding how smoothly turns are running. Oh, and I'll try to get to catch a few plays on the side while I'm at it to help with my weekly articles!
This season's article will be a bit different than the previous seasons (different writers have different styles, but I'm sure you'll grow fond of me in no time) as I'll not only recap the games I was able to watch, but give shoutouts to what I've grown to call my "Players of the week" in a short sentence format and give a preview of the games to come the following weekend.
Any feedback or comments can be sent to me directly either via email (simon@flagplusfootball.com) or twitter (@DagenaisFPF); I read and reply to every single one of them; I love my fans.
Let's get started.
Week 1
The very first week is never easy for anybody; you've just come from a long hiatus, some of you haven't touched a football since the end of the Winter season or even EVER, it's a new team and new coaches or even a new league and new rules. Luckily, we were blessed with awesome plays in every single division going from Alex Kahan's very first FPF rushing TD to Jordy Melnik's 37 yard pass to QB-turned-receiver William Bradford. Oh and let's not forget Alex Paliotti's 109 rushing yards in his very first FPF game. Kaelen Trepanier now has a new contender for the most rushing yards in a FPF Jr season!
Recaps
Every week, I'll break down some of the games I was able to witness first-hand and give my very own feedback on how the game went down. Sadly, I cannot duplicate myself nor be at two places at once, so there's a few games I wasn't able to witness myself, but I'll try my best to sum it up from the comments I've received from multiple sources.
Varsity Division
Our season opener saw two loaded rosters go up against each other as Lions' walk away with their very first FPF victory in, well, their first ever FPF game. Quaterback Bradley Parent found creative ways to move the chains when needed (3 rushes for 71 yards) and threw for just enough yardage to put his team in excellent field positioning. Limiting his mistakes, he managed to connect with his new favorite go-to in Jake Applebaum to push his team past Cougars. Even though the offense wasn't exactly what Cougars' coaches had in mind coming into this season, veteran QB Kaelen Trepanier found holes in the defense that others simply couldn't account for (5 rushes for 96 yards) and connected with Olivier Gauthier on 3 seperate throws for 37 yards and a touchdown. Having seen first hand what Alexi Dubois can do in the playoffs last season and how much of a ball-hawk Ryan McGrath truly is (already 2 interceptions and 2 Pds in his very first FPF game), I am not worried for this team.
Speaking of barn burners, these two teams took it all the way to the last few plays to make their week 1 game memorable. On one hand, QB Coby White was a true passer connecting on 11 of his 14 throws for 157 yards and 4 Tds (4 of which went to Max Kadanoff for 60 yards and 2 Tds), but their ability to connect on converts was truly the game changing factor as they were up by 1 for most of the hour and managed to maintain a 2-point lead to end the game. On the flip side, Alex Kahan was a revelation for the Longhorns with 3 passing Tds, 1 rushing and 1 interception on defense; talk about a triple threat. With receivers like Spencer Fitzpatrick (4 catches for 100 yards and 1 TD) and Eric Flinker (2 catches for 40 yards and 1 TD), there's no slowing down these guys this season.
Sophomore Division
Fighting Irish vs Hurricanes
After their 30 minute practice, Fighting Irish started with Jacob Provost under center for the most part before allowing Ben Arnovitz to give it a shot and succeed finding previously mentioned Jacob Provost for a long gain and their sole TD in the second half. With a few very talented playmakers on defense including Jacob Wilson and Lucas Piscopos, there's very little doubt these guys will be competitive this year! The returning Hurricanes quickly set the tone scoring in the first half by allowing Marco Gentile to use his legs and rush one in (finishing the night with 3 rushes for 23 yards and a TD). Offensively, they've managed to get 6 different receivers on the score sheet (in only 22 minutes!) and bolster probably one of the best defenses in the division (already has 1 sack, 2 interceptions and 2 Pds so far). With playmakers like Brenden Urquhart rushing, Jushane Davis, Kevin Beaumier and Nicholas Masella, Hurricanes are poised for success.
In their first ever FPF game, Dusters (who wears one of the nicest FPF jersey I've seen in a very long time), managed to get settled in fairly quickly to what this league has to offer and adjust to the different field and rules. Russell Bienstock caught their only offensive touchdown, but their offense truly found its rhythm in the second half. With two good Qbs in Lewis Epstein and Adam Malinoff, this offense is going places. On the flip side, Wildcats entered the game with QB William Bradford under center (who might just be the next best thing) connecting on 3 of his 4 throws for 51 yards and 2 Tds before turning receiver and allowing Jordy Melnik to throw two Tds himself. With a plethora of weapons at their disposal on both sides of the ball (let's not forget to mention Noah Smallwood's phenomenal impact as a rusher and T'Shawn Hinkson-Frenette's interception), Wildcats might just become my new favorite team.
Voltigeurs vs Yellow Jackets
Although Voltigeurs were missing 3 of their 9 players for their season opener, QB Simon Boudreault made it look easy connecting on 9 of his 12 throws for 89 yards and 3 Tds. With a ball-hawking defense and guys that are way too fast, Voltigeurs are bound to see their names mentioned quite a few times in these articles. Two-way threat Felix Joly and Samuel Cahill shone bright on Sunday morning. Yellow Jackets' QB Garner Ross found ways to move the chains, but getting points wound up being a little bit trickier as he was restrained to only one scoring drive (a nice 28 yard pass to Jonathan Jagerman who completely Moss'd two defenders that were taller than him). Nonetheless, offense showed a lot of promises with 8 different receivers catching at least one pass and snapper Jesse Dym collecting up to 4 by himself. If the defense, led by star player Charles Presser, can come together nicely, Yellow Jackets will be very, very competitive in the following weeks.
Freshman Division
With multiple gunslingers at his disposal, coach Payne might have a headache going into this week's game as to who'll be the one starting under center for his team on Sunday morning. Although Darius Paiement showed great skills connecting on 3 passes for 27 yards and a TD (to Caleb Perks who keeps turning heads with deceptive speed and great hands), Massimo Longo and Kevin De Serres-Payne also showed quite a lot of potential. Tigers, in their first match of the day, found ways to move the chains via Alex Paliotti's ability to break free for huge gains (4 rushes for 109 yards and a TD) and a promising defense that won't allow much to get by them this season. Their ability to get converts might push them over the edge this season!
In their second game of the day, Tigers looked a bit tired from their previous encounter, but there's no mistaken how talented Musketeers truly are this season. With QB Kaydon Shaw connecting on 6 of his 8 passes for 101 yards and 3 Tds, there's no doubt this offense will be lights out all season. With three different receivers, Massimo Moufrage, Noah Soles and Cam Trickett, finding the endzone for Musketeers in their season's opener, I see great things for them this season. Oh, and let's not forget about Kaydon Shaw's 2 interceptions defensively! With a different approach, Tigers tried to get QB Alex Paliotti to distribute the ball a bit more (connected with Justin Swaminadhan for a huge 25 yard gain) which worked for the most part limiting his rushing attempts to only 2 (for 23 yards nonetheless). With fresh legs in Week 3, this rematch is bound to be one of the best game's of the week !
Players of the Week
The fan favorite segment returns. Every week, I'll nominate a few players across the league as my "players of the week". Based on statistical merit, I'll shine light on special performances by a player or players that made game-changing plays and deserve to have their names up in lights. Hopefully yours will be up there as well more than once!
Simon Boudreault (Voltigeurs): QB and Safety aren't two easy positions to play in FPF, yet, he made it look easy on Sunday morning with 2 interceptions (one for 6) and one of the league's highest QB Rating of 135.1.
Spencer Fitzpatrick (Longhorns): After a good season this Winter, he's back for more. Alongside his teammate, he had a very impressive week 1 game with 4 receptions for 100 yards and a touchdown.
Ryan McGrath (Cougars): With a catch for 38 yards and 2 interceptions on defense, he made sure we'd know his name by week 2. Quite the impressive way to kick off the season.
Alex Paliotti (Tigers): In his first FPF game, he probably set a rushing record that will hold the entire season with 109 rushing yards and a TD. If he can keep moving around in the backfield, he'll find ways to move the chains and win games.
Kaydon Shaw (Musketeers): With an almost perfect QB rating (156.3) and 2 interceptions on defense, there's very little doubt he's one of the best players in his division after only one week.
Crystall Ball and Shenanigans
Every week, I'll preview the upcoming games with a brief look at what each game as in store for us. Who will come out victor? Who will make THE play everyone talks about for the rest of the season? I'll try to predict it for you.
Although both teams lost by a single score last week, there's simply no negative comments that can be said about how well both of these two teams battled it out on opening Saturday. QB Kaelen Trepanier had a rough first outing after moving up from Sophomore into Varsity, but his ability to buy time in the pocket and move the chains with his legs is undeniable. Rusher Aidan Bienstock will have his hands full with this one for the game on Sunday morning. Unless the Cougars' defense can find an answer for Alex Kahan's high octane offense, we might see our first 40+ points game. Is this the week we see Spencer Strasser emerge as a top receiver in his division?
To think they were only 6 last week is scary in itself, but Voltigeurs showed no sign of weakness in their first outing and the defending champs won't take any games for granted. With QB Simon Boudreault being all people are talking about these days, can Dusters' defense adjust to a fast-paced offense and find ways to stop him? If Lewis Epstein can play risk-free football, Matthew Eiley might enjoy his first 100+ yard game. With the dual QB threat of Lewis Epstein and Adam Malinoff, Dusters might have something special in store for Voltigeurs next Sunday.
Coming off an impressive win, Musketeers' QB is the talk of the town so far in the freshman division. If he can continue to play at such a high level and spread the ball so well, there is simply no slowing down this offense. Massimo Moufrage will have a tough time breaking free of Panthers' defense this week, but should still be able to find ways to move the chains. With guys like Phoenix Thomas, Caleb Perks and Massimo Longo catching passes for Panthers, this might come down to the very last drive in a high-scoring affair.
Fighting Irish vs Yellow Jackets
With new-found QB Ben Arnovitz possibly leading his offense from the very first whistle on Sunday morning, Fighting Irish might have a revigored offense that'll be welcomed with open arms to match up with their gritty defense led by star DB Jacob Provost. If they can get going early, there's very little doubt we'll be talking all about Fighting Irish for the upcoming weeks. They'll be going up against Garner Ross' Yellow Jackets and his ability to spread the ball to basically EVERYONE as Yellow Jackets found their rhythm late in the second half last week and will look to build on their prowess. With guys like Charles Presser, Jesse Dym and Jonathan Jagerman, there's very little doubt these guys will find success.
Both undefeated teams in Varsity will square off against each other after an impressive week 1 performance. On one side, we've got a high-octane offense led by QB extraordinaire Coby White who seems absolutely unstoppable with weapons like Max Kadanoff, A.J. Titleman and Aidan Bienstock. On the other hand, we've got very mobile QB in Bradley Parent, a relentless defense with star Jacob Soles leading the charge and probably one of the best receiver in the division in Jake Applebaum. All in all, it's bound to be a very exciting matchup!
The division's best defense will face off against its best offense on Sunday morning and only one team can move on to remain undefeated. Can William Bradford's offense find weaknesses against Brenden Urquhart's rushes and connect with his receivers or will Jushane Davis get his 2nd interception of the season? There is so many ways this game can turn out, but there can only be one winner. This is my favorite match up this week. No doubt about it.
That's it for me this week. Hopefully I'll still have a job by week 2. Happy, annoyed, frustrated, humbled by my comments? Take a second to send me a quick message either via twiter (@DagenaisFPF) or via email (simon@flagplusfootball.com) and I'll be sure to rectify or simply explain my point of view. I'm also at the fields every Sunday; don't be shy to drop by and talk some football!